Physical Education
Pupils have two hours of PE timetabled per week through which we develop core skills to enable children to become well rounded sportsmen and women as set out in the new National Curriculum. Children are given the opportunity to swim during KS2 and we aim for all pupils leaving the school to be able to swim at least 25m. All pupils also have the opportunity to complete the National Cycling Proficiency scheme in KS2.
All pupils take part in a range of tournaments and sports festivals both within school (Intra-competitions) between year groups and with other schools (Inter-competitions). Find out more about our Intra and Inter competitions below.
| | |
| --- | --- |
| | Schemes of work, lesson plans and ideas for teaching P.E. |
| | Playground games for children to try outside. |
Swimming
Alongside reporting sport premium; schools are now required to report the number of children who meet the end of KS2 swimming expectations.
This includes:

–swimming competently, confidently and proficiently over a distance of at

least 25 metres (two stokes in Durham).



–performing safe self-­rescue in different water-based situations.
Please see the table below to find the percentage of children in years 3-6 who met these expectations in 2016-2017.



School Sports Organising Crew

In the table below you can find out about our amazing School Sports Organising Crew for this year. We have lots of exciting things planned for the year ahead.
Coxhoe host Thornhill in Sports Festival
What a fantastic day! Boys and girls in Classes 6, 7 and 8 had the opportunity to take part in running activities, mini - tennis and football in an inter-school competition, held on the school playing fields. Everyone represented the school with great pride and thoroughly enjoyed the afternoon. Thank you to Mrs Adair for putting on refreshments for everyone and to Coxhoe United for letting use their goalposts. The event has a huge success and we hope to return to Thornhill for a fixture soon.
All Stars Cricket
All Stars Cricket led by Durham County Cricket Club visited Coxhoe Primary. Astro helped children in Classes 3, 4 and 5 try different Cricket skills in a taster session. The children had lots of opportunity to take part and experience the game of Cricket. If your child is interested in the sport, then sign-up with All Stars Cricket which is taking place this summer at lots of local cricket clubs including, Sedgefield, Tudhoe, Mainsforth and Durham City.
Gymnastics Carousel
Children from Year 3 and 4 got the chance to take part in a range of gymnastic activities. Children practised vaulting, tumbling and acrobatics at Newton Aycliffe Leisure Centre - led by Athena. They gave 100% in everything they did and demonstrated a huge range of skills. It was great to see the children's fearless approach and 'have a go' attitude.
Coxhoe Crowned League Champions
The A team added to their success in the cup by defending their league title - the third time in four seasons! After a hard-fought draw in their first game they won the next six matches in a row to lift the shield on a stormy evening. The team showed excellent team spirit throughout and thoroughly deserved their success. Same again next year!
Dance Festival
Coxhoe got on their dancing shoes as part of the 2018 Dance Festival. Classes produced some outstanding performances to a range of themes from Freestyle to Charlston and Latin to Ancient Egypt. Class 6 were crowned champions for there excellent Charlston and will go onto represent the school at the Sedgefield Dance Festival.
Gymnastics Festival
Coxhoe held its annual Gymnastics Festival and Class 7 have wrote recounts on their festival experience.
When I arrived in the hall I was tingling of excitement. Excitedly I skipped to my space and gazed around the cramped room. Suddenly, the first class...it wasn't us. We watched the other performers sparkle. Next I thought it was class 11 but it was us. I was excited. I jumped up and walked gracefully to my space. We were all waiting for the sports crew to start the music…
Frankie-Joe
Yesterday when I came into the hall I noticed that the hall seemed bigger. I was excited when I arrived in the big hall. Just then, I was full of excitement. Next, I skipped in the hall. When I sat down I heard people talking and chattering. I could see blue mats, children and teachers. I skipped and… I slipped on something and nearly tripped over onto Leah's back. It was Class 6's turn to show theirs. They were dancing to 'Do you want to build a snow man?'. It was cool. Magically after that it was our turn…
Maisie-Lee
Just then we walked into the hall nervously but happily. Everyone was having a chat to each other. Moments later the first class was announced!.... but it was Class 6. After, we waited anxiously for the next class to perform then they announced it was Class 9! Then it was Class 10`s turn. All of the performances had being brilliant. Then without warning, it was our turn! We speedily went into our spaces…
Bram
Class 6-7 Inter-School Rounders
Years 3 & 4 Mixed Rounders
COXHOE WIN The PREMIERSHIP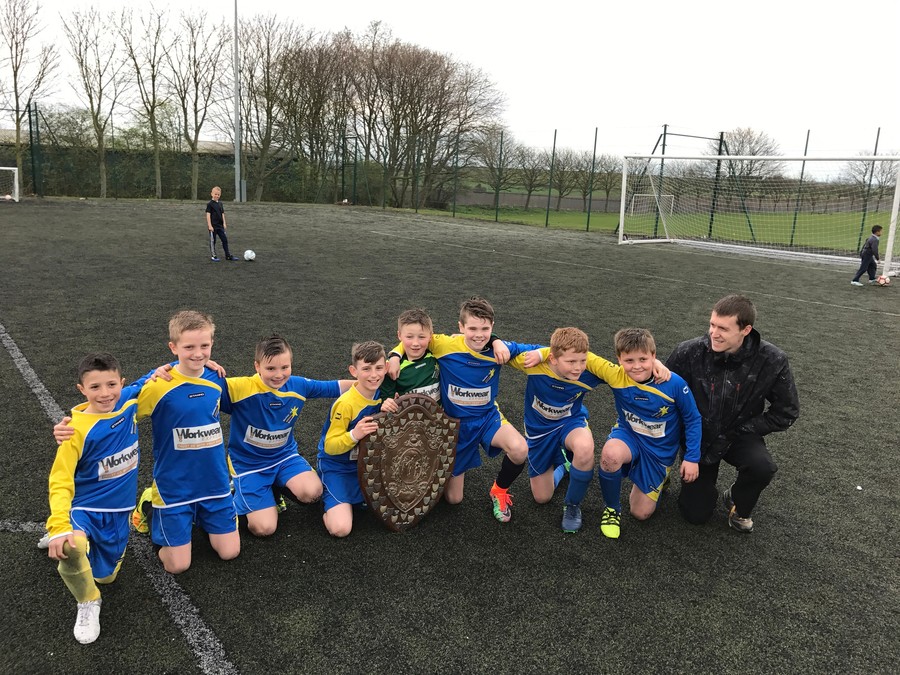 The Coxhoe website uses Webanywhere's School Jotter web design and content management system - try out this School Website Builder.
Webanywhere are specialists in education sites and learning platform or VLE (virtual learning environment) services for schools. They are currently offering a free trial of their own Learnanywhere VLE - designed specifically for primary schools - to register for the trial just fill in the form here: Learnanywhere VLE