Year 6 visit to Durham County Council Chambers
Year 6 visit to Durham County Council Chambers
8 September 2017 (by admin)
Year 6 have thoroughly enjoyed our visit to Durham County Council Chambers today.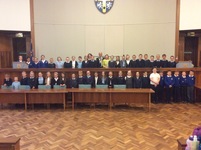 This morning, we had the pleasure of meeting Roberta Blackman-Woods (MP for Durham) and Bill Kellett (Mayor of Durham) who told the children all about their job roles. The children were then able to interview them both and asked some fantastic questions. Before the end of the visit the children took part in a debate about whether 'junk food' should be banned in primary schools. I was so proud of the children's maturity when asking questions and debating. What a great way to start the year and enhance our first week learning about democracy, law and parliament!
The Coxhoe website uses Webanywhere's School Jotter web design and content management system - try out this School Website Builder.
Webanywhere are specialists in education sites and learning platform or VLE (virtual learning environment) services for schools. They are currently offering a free trial of their own Learnanywhere VLE - designed specifically for primary schools - to register for the trial just fill in the form here: Learnanywhere VLE