Forest School
Lead by Mrs Topping - Forest School Leader.
What is Forest School?
Forest School is a child-centred inspirational learning process, that offers opportunities for holistic growth through regular sessions. It is a long-term program that supports play, exploration and supported risk taking. It develops confidence and self-esteem through learner inspired, hands-on experiences in a natural setting.
Forest School has a developmental ethos shared by thousands of trained practitioners around the world, who are constantly developing their learning styles and skills to support new and imaginative learners.
The process helps and facilitates more than knowledge-gathering, it helps learners develop socially, emotionally, spiritually, physically and intellectually. It creates a safe, non-judgemental nurturing environment for learners to try stuff out and take risks. Forest School inspires a deep and meaningful connection to the world and an understanding of how a learner fits within it. Our approach to risk means that learners constantly expand on their abilities by solving real-world issues, building self-belief and resilience. We believe that risk is more than just potential for physical harm, but a more holistic thing, there are risks in everything we do, and we grow by overcoming them. Forest School therefore, helps participants to become, healthy, resilient, creative and independent learners.
There is lots of research out there to support the outcomes of Forest School, but we know that it isn't just the educational outcomes and research that matter, our learners and leaders love it too!
We have begun!
Some children from years 1 and 2 started their forest school journey this afternoon.
We had a long chat about safety and how we need to stay safe outdoors, following all of our rules.
We then read a Julia Donaldson story "Room on the Broom."
The children learned some magic words "Iggidy ziggidy zaggidy zoom," and once they'd made their very own broomsticks, using the natural materials available to them outdoors, up and off they flew, leaving chaos in their wake.
We had a little time spare at the end of our sessions so we decided it might be fun to make a witches potion (or three.) We used lots of materials that we found in our forest area and worked very well together to create some very interesting looking potions.
Next week we will be looking at another Julia Donaldson book "The Gruffalo" and den building. We are all very excited for Thursday to come around again.
Week 6 - (Year 3/4) - The Scarecrow's Wedding
This week we read the story The Scarecrow's Wedding. We decided to cook a wedding banquet on the campfire to celebrate!
After a safety briefing, we lit the campfire.
It was all very exciting.
The children all took turns roasting marshmallows to make s'mores. We then made popcorn and pancakes with honey, followed by hot chocolate!
It was delicious.
Afterwards we had to clean our dishes and put everything away. The children all helped and took turns washing and drying the dishes.
We finished our 6 week sessions with some campfire games before talking about all of our favourite things that we have enjoyed over the six weeks.
I have thoroughly enjoyed spending these 6 weeks having adventures with this wonderful bunch of people. They have made me proud every week and we can't wait to experience the wonders of the forest together again sometime soon.
Mrs Topping.
Week 5 (Year 3/4) - Superworm. 28.03.22
Today during our Forest School session, we read the Julia Donaldson book, Superworm.
The children thoroughly enjoyed the story and we had a chat about what super powers our Superworm might have. This ranged from being able to fly, having super speed to even being able to do our homework for us.
We then decided we would like to celebrate Superworm by creating a beautiful artwork in our Forest School area, dedicated to him.
We found lots of "Superworms" (lengths of wool) hiding in the trees and used these to weave into a wooden frame. The children then decided it would be beautiful if we added some of our natural resources from outdoors to weave into the artwork too.
They chose pine cones, sticks, flowers and leaves.
I think you will agree the results are amazing! I think this is an artwork Superworm would be happy to call his own!
The children are all VERY excited for our session next week as we are going to be working safely with fire!
Please note, this session will be on Thursday next week instead of the Monday, due to needing additional adults for safety.
Week 4 (Year 3/4) - Stickman. 21.03.22
This week we were blessed with some beautiful weather, which really makes all the difference when we are heading outdoors. It meant that we didn't need as long to prepare to go out and we had time for some extra games. We played "Sardines", "Find Something Beginning with..." and "The Floor is Lava."
Once we were adequately warmed up, we read the story "Stickman" together.
We talked about what we would use to make our own stickman and reeducated ourselves with some basic knot skills.
The children were then taught how to whittle. We spoke lots about safety and how we should never point tools towards ourselves or others. I demonstrated the correct technique and the children were amazing, following instructions and keeping themselves and others safe.
They then made their whittled stick into a stickman. They were very impressive!
Once made, we searched our area for natural resources that we could use to make Stickman a home. They were very creative!
We as always, are looking forward to next week!
Week 3 (Year 3/4)- A Squash and a Squeeze. 17.03.22
This week we read the story "A Squash and a Squeeze" and we learnt what a moral is. We discussed whether the moral in that story would work in real life. We decided to use our previously learned skills to put it to the test.
We practiced our knot tying skills before talking about what might make a good shelter and why. Would it need to be waterproof, how would we ensure it was safe?
We made two shelters this week, one a wooden structure and the other made using tarpaulin and rope. Both worked really well. We then re-read the story whilst some of the children acted it out. We decided that, yes! the moral in the story did work in real life and we said that we thought the moral was that we should appreciate the things we have in life.
As always, we deconstructed our dens and left the forest as we found it, without a trace of teachers or children.
We are very much looking forward to Monday or our next session.
Week 2 (Year 3/4)- The Gruffalo 7.3.22
This week our story was The Gruffalo. As I read the book some of the children acted the story out and really brought it to life. We then talked about all of the character's habitats and where they might hide within our setting. We decided that we should make somewhere for the Gruffalo to hide from Mouse! I showed the children some pictures of a den I had built at Hamsterly Forest and they decided that they would recreate it in our outdoor area. After a chat about safety and how we should transport branches and logs bigger than us, we made a start on our den!
WOW! I was so impressed with what the children came up with! They all worked so well together as a team and communicated their ideas to each other brilliantly!
We all took turns to have a go in our den and then deconstructed it to finish.
When asked what the children had enjoyed most from our session, most children shouted "All of it!"
We are all very much looking forward to next week.
Week 1 (Year 3/4)- Room on the Broom 28.2.22
This week we started our Forest School journey.
We talked through our special Forest School rules. What we need to remember to keep us safe and what we could expect from our sessions.
The children were all very excited and looking forward to getting started.
We read through the Julia Donaldson book The Room on the Broom and made some similarities between the areas in the story and our own setting.
Our skill this week was knot work. We learnt an 'Overhand' knot and because we did so well, we moved onto a more tricky 'Half Hitch' knot.
We then moved onto our 2 tasks, in small groups. We made witches brooms, using our skills and then made a witches potion, getting extremely messy in the process.
We all had lots of fun and the children have all expressed that they are very excited to continue next week.
We have created our very own Forest School display using all of the crafts we have created over the past few weeks so that everyone can see what we have been up to and how amazing we are in Forest School.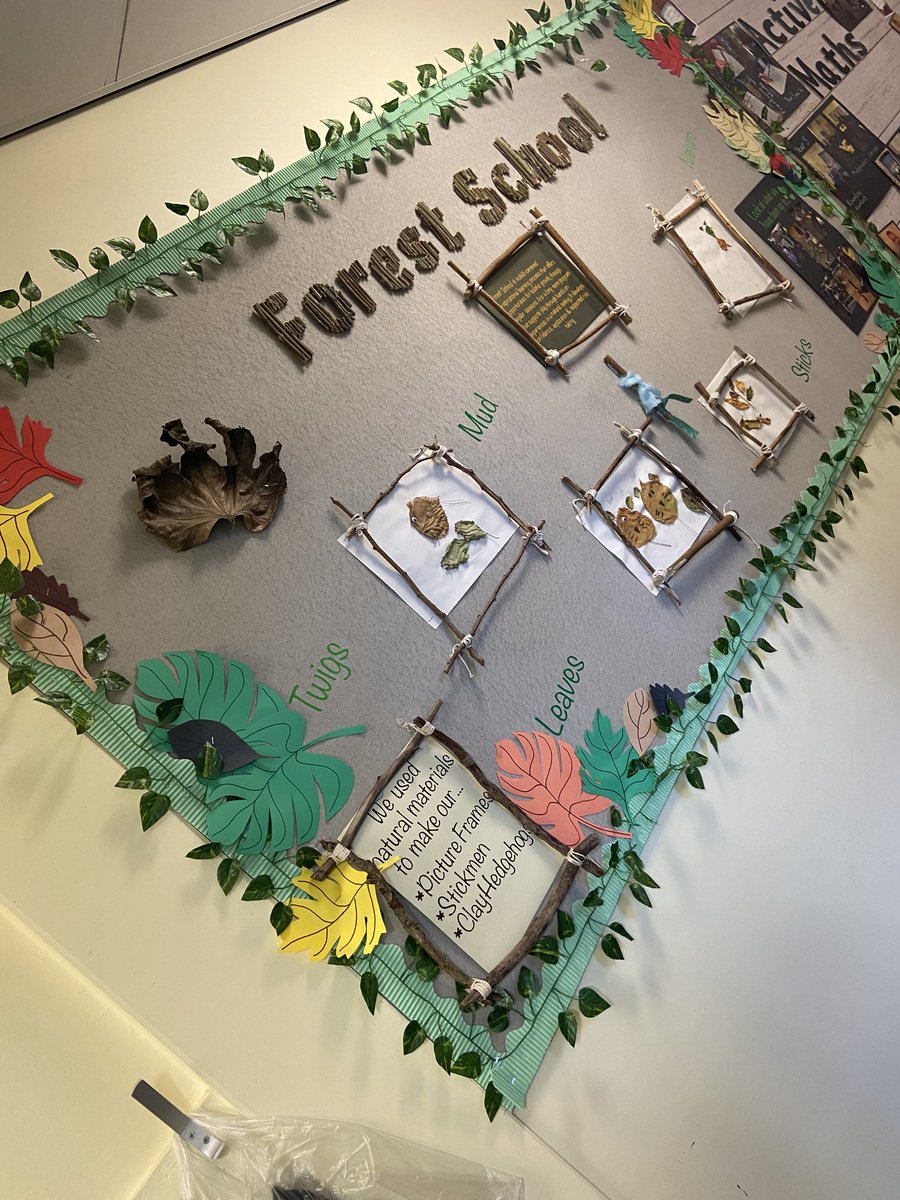 Last half term we were practicing some forest school skills by using sticks to create some very exciting crafts, such as stickmen, clay hedgehogs and some picture frames. We made animal art using leaves and natural resources and we learnt about the different types of trees we have on our school site by matching leaf pictures to leaves we collected on the school grounds.
Julia Donaldson 6 Week Block:
Week 1: Room on the Broom - 28.2.22
Knot skills.
Week 2: The Gruffalo - 7..3.22
Den building
Week 3: - A Squash and a Squeeze 17..3.22
Shelter building.
Week 4: Stickman - 21.3.22
Whittling.
Week 5: Superworm - 28.3.22
Weaving
Week 6: The Scarecrow's Wedding - 4.4.22
Fire.