Don't forget to send me your Year 6 videos! Remember: two separate videos, one simply saying what you want to be when you're older and another one where someone from off screen throws a bucket of water off you, then you throw a bucket of water off the other side of the screen.
You have until Monday evening.
Welcome to Class 12
Miss Marsden & Mrs Caygill
Another Maths joke :)
Did you hear about the mathematician who was afraid of negative numbers?
He'd stop at nothing to avoid them!
Well, well, well, Class 12...
This is it: your final week at Coxhoe Primary School! What a way to end your time as primary school children, you are the first and no doubt the last Lockdown Leavers! You are making history as we speak!
We have had a truly incredible year with you all and simply cannot believe that it is coming to and end. Day after day, you have continued to make us so proud of you! We have missed you all so much and are trying our very best to get you all back together in the summer holidays.
But, for your final week of primary, we have a couple of challenges to keep you busy. Firstly, its Harry Potter week! The majority of your tasks are based around Harry Potter this week, all of the activities and resources are below.
However, I do have another task for you: I would like you to complete the Year 6 booklet, I would advise that you do a couple of pages each day. It is a booklet to remind you of your time at primary school. I have attached a PDF version if you want to print it, but also an editable version for if you want to change anything or do it on the computer. Have fun reminiscing! If you joined our school late, don't worry, you can still complete the booklet but the years that you weren't here, you can complete based on your old school.
On Friday, you will see that we have suggested you have a little party at home with lots of treats because you are going to be able to watch your year 6 video. We will be joining in too, we will be watching the video in school with a cup of tea and biscuits!
We will see you soon, have a wonderful week, miss you!
Miss Marsden & Mrs Caygill
Thank you to those of you who have sent their videos so far. If you haven't sent your video, please send it as soon as possible. Thanks, Miss Marsden x
WE NEED YOUR VIDEOS :)
For our Year 6 video, please can you send the following to ks2homelearning.coxhoe@durhamlearning.net:
A video of you getting a bucket of water thrown over you (you shouldn't be able to see where the water is coming from. After you are soaked, you then need to throw a bucket of water off screen.

A separate video of you simply saying what you would like to be when you are older.

By sending these videos, your adult is consenting to it being on our school website
Class 12 Home Learning Leaderboard for last week: week beginning 22/06/20
Accelerated Reader Spellodrome Lexia MyON Mathletics TT Rockstar
Josh T Josh T Luke Jessie-Lea James
James Jessie-Lea Alesha James Luke
Oscar James Josh T Ella
Home Learning Heroes
Lewis T
Jack
William
Amazing work everyone - keep it up. Who will be on our learning heroes next week?
This Week's Home Learning - WB 13.7.20
Word of the Week 29/06/20
Word of the Week: havoc (verb/noun)
Definition: widespread destruction/to lay waste
Example: The hurricane caused havoc when it hit Mexico.
Synonyms: devastation
Antonyms: peace
Challenge: Use the word of the week in four different sentence types: statement, question, command,exclamation.
Weekly Spellings 29/06/20:
Hi everyone! I hope that you are practicing your spellings and keep sending me your excellent scores!
This week, you should be testing yourself on the list beginning homonym, homophone, infinitive, inflection.
The spellings that you should learn this week - to be tested next week are words linked to our English lessons as follows:
subjunctive
grammar
subordination
prefix
suffix
syllable
synonym
tense
imperative
stanza
Spelling Challenge:
Have a go at my spelling word search below:
Please find your dictation sentences below.
Story Time - Gangster Granny
I miss our daily story time so much class 12! It is my favourite part of the day when we all sit together after a busy day and enjoy some of our class novel.
I have therefore chosen one of my favourite books to share with you each day, so please sit back, relax and enjoy!
CHALLENGE - After hearing a description of Ben's Granny in chapter 1, can you complete a drawing of her and get an adult to send it to out KS2 home learning email?
Suggested TImetable
08:00 - wake up, breakfast get ready
08:30 - do some reading and get ready for your fun-filled day
09:00 - Supermovers/Just Dance
09:15 - Maths fun
10:15 - Relax, have a break
10:45 - English fun
12:00 - Lunch time
13:00 - Foundation Subject
14:00 - Circuits
14:15 - Have a break
14:30 - Foundation Subject
15:30 - Relax :)
We can't wait to see what you achieve
See you soon!
Miss Marsden and Mrs Caygill
My lovely Class 12, I have a message for you.
Please watch it!
----------------->
What we've been up to ...
During our Earth and Space unit, we have been learning about how the movement of the moon creates different phases. To show off our understanding, we created posters using oreos to show the different phases of the moon.
We have been working with the North East Ambulance service to learn about a range of things: basic first aid, what the ambulance service does, when to use the ambulance service, what a defib is and how to use it and CPR. We are looking forward to getting to look inside of the the actual ambulance soon.
Our Art Day was focused on collage. We decided to make a space collage using a range of different materials. We began by flicking white paint onto our black background before creating a marble effect water colour piece. We then cut out our planets, using scraps for our landscape. To make the scene look more realistic, we used charcoal to cast a shadow. On the afternoon, we took art outdoors. We used a range of scrap materials and natural materials to make large space-themed land art.
Today we had a challenge of finding the answers to some mental maths questions outside. We had cards stuck up all around our outdoor environment. The answer to the question on the card was the number of the card we needed to find next. We thoroughly enjoyed getting active whilst cooperating and practising our maths.
All of year 6 have worked incredibly hard to open their very own Italian restaurant - Mount Vesaucious. They spent lots of time preparing everything a restaurant needs from a three course meal for their parents, carers and governors to first class entertainment!
We were very lucky to be able to visit the Italian Farmhouse in Coxhoe. As a year group, we visited the restaurant for some inspiration for our project. As you can see, we worked with the talented chefs to cook different pizzas and pasta before most importantly, getting to taste the delicious food! We would like to say a huge thank you to the very welcoming staff at Italian Farmhouse.
Mental Health awareness- Live lesson
"We all enjoyed recognising and expressing our emotions. We had to circle our feelings, then we had to create something to express an emotion you have felt in the past. We learn In different ways to calm ourselves down". -Lauren
For European Day of Languages, we did a variety of different activities. Class 12 focused on the country Portugal; we found out lots of different facts and created information posters. This was then part of the Race around Europe afternoon where all of KS2 had a quiz about lots of different countries. We then had a visitor from Lingotots. In the sessions we thought about how speaking multiple languages can help you in different careers.
"I enjoyed European day because the lady from Lingo tots made it fun by including dances and songs, which were in French and Spanish"- James
"During the European day of languages, a lady from Lingo tots came in. She taught me a lot about languages and she made it fun by signing and dancing". - Tia
Firstly, for our paired maths session, we worked together to plan some activities to support Class 8 in what they had been learning in Maths. We thought of fluency, reasoning and problem solving activities to do with them. We then split into groups and worked with different children. It was great to deepen our understanding of the number system by explaining it to younger children.
"On Friday, half of Class 12 and half of Class 8 swopped to do paired Maths. We all worked together to work out Maths calculations. I enjoyed the activities because it gave me a chance to work with people and help them." - Olivia
As part of our PHSE and Science topics for this half term we are learning all about drugs and alcohol. Two members of Durham Police Force came in to talk to us about age restrictions and using drugs that help us. We learnt lots of new information and created a poster about this. The posters are being judged and we can't wait to see who the winners are!
For our first art day, we looked at North American Art. In particular, we looked at the artist Jean Michel Basquiat and learnt about what inspired his art and the different styles that he used. We found it very interesting that he included many different patterns and that a skull featured in the majority of his pieces. We therefore decided to create a piece of art which was a skull with lots of different patterns. Firstly, we used the iPads to explore different patterns and we drew these in our sketch books. We then experimented with different mediums to get our desired look for each pattern.
"On art day, we did painting with lots of different paintings. I loved how we did lots of different patterns as we were allowed to use the iPads and we were allowed to do any pattern" - Alesha
Adam Bushnell visited our school for two days in September. He is a local author and story teller who used our Autumn term topics to inspire us in our writing. Our topic is North America and we enjoyed sharing scary stories about North American spirits. We were able to sit under our tables and use torches to scare our friends while we were reading our stories! SPOOKY!
"I really really loved writing horror stories and we got to sit under the tables in the dark." - Toby
"My best part was when we got to sit under the tables and read the stories."- Josh
Democracy
During our first PHSE topic: Democracy and Law, we learnt all about how the people of our country have their say and how we are very lucky as in some countries this is not the case. We took part in voting, having a say, canvassing for votes and using a polling station. We made Party Political Broadcasts using our computing skills and then the whole school watched this and made their votes. It was exciting and nail-biting while the votes were being counted. Well done to everyone who took part - the votes were so close. Jack and Tia are Head Pupils and Leo and Alesha are our Deputies.
"The best part was when we learnt all about parliament and the rules and regulations on how to vote and what age you have to be. I really enjoyed being a part of all the polling stations."- Luke
"I liked when we learnt all about other countries and when we collected all the votes."- Saphron
Science
The children of Class 12 conducted experiments on heat conductivity to 'mixed' results!
Residential
The children of Year Six loved their residential to Weardale House. Here are some of the pictures!
Safer Futures
Year 6 travelled to The Workplace in Newton Aycliffe to learn more about some of our emergency services and how to keep yourself safe.
Mini Police
Year 6 Children checked cars to see if they were parked considerately for local residents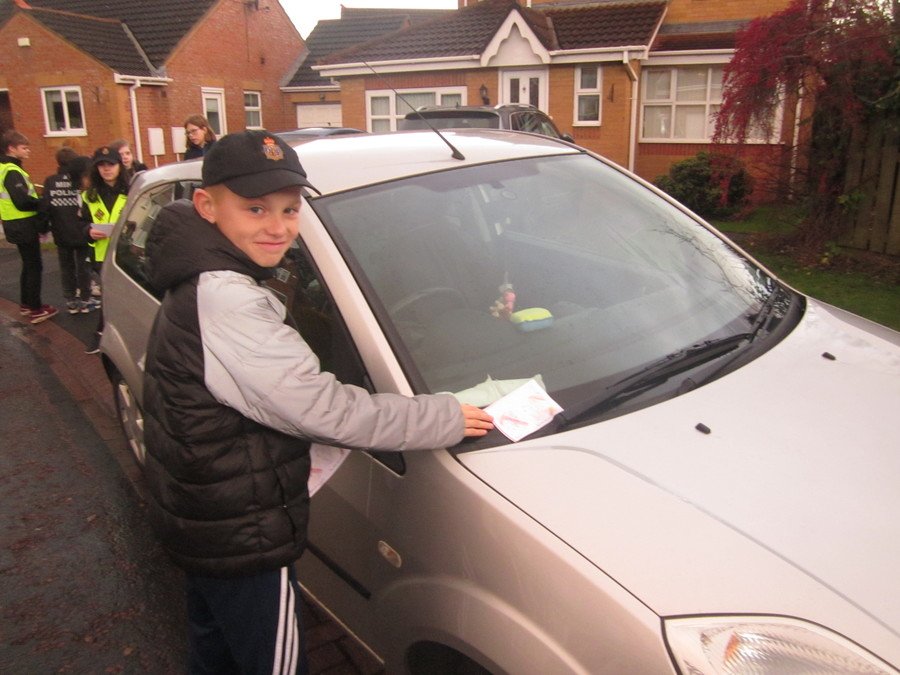 Computing
Coding – Children used Kodu to make their own games.
Skipping....
Coxhoe Primary School had a special visitor who taught Class 12 many new skills!
Useful Websites, links and Apps...