Welcome to Class 5
Mrs Fahey
Hi Class 5,
It feels very strange that we have arrived at the end of our Year 2 journey together...but I've still got you for one more week! It has been a very unusual school year for us all, with almost two amazing terms together in school and the last one with you showing your best at home. I just want you to know how proud I am of each and every one of you and how proud I am to be able to say that I have taught such an amazing group of children. You are all superstars that I know will continue to shine so brightly in your new classes next year. I've been chatting with your new teachers last week and they are all very excited to meet you, I know you will show them all of the fantastic things that I have been able to tell them about you.
For our final week our learning grid is a celebration of things we enjoyed in Class 5 during our time in school. I really hope you enjoy spending some time looking at them and remembering the fun that we had learning together. I've recorded a new story video of Christopher Nibble and Mr Hopson has recorded Dave the Lonely Monster on the Class 6 page for you to enjoy - check out our story time sections.
Keep an eye out for me towards the end of the week (Thursday and Friday) Miss Maughan and I are coming to see you all and we can't wait!
Take care guys, have the best summer! Also, remember that when you see me in the corridor next year I still want to hear all about what you have been up to and hear all of your exciting news and achievements - you don't get rid of me that easily!
Bye for now superstars!
Mrs Fahey
Special story request
Below this message is our very own Class 5 story - thanks for the challenge Amelia (1) I have loved writing this and hope you all enjoy watching it! The story is in two parts as one video was too big to upload to the website. If you want to read the story, a pdf of it is here.
I hope it makes you all smile as much as I did writing it.
A message from Mrs Fahey...and Sally the cat!
Home Learning Leaderboard (w/c 06.07.20)
Well done to the boys and girls below, their super efforts have earned them a place on our leaderboard:
Mathletics - Joey, Isabelle, Lewis, Bobby, Sophie (1) and Sophie (2)
TT Rockstars - Lewis, Molly, Bobby, Jayden, Isabelle and Thomas
Lexia - Sophie (2), Molly, Isabelle and Bobby
Home Learning Heroes! (work you have emailed, tweeted or spoken to me about on the phone)
I hope you had a fantastic time showing off your talents whilst you have been completing your transition packs
Huge congratulations to Isabelle for completing the Year 2 Curriculum on Mathletics!
(*Some of our boys and girls share the same first name so the 1 or 2 indicates alphabetical order within the class and keeps our surnames private)
Weekly Learning Grid (w/c 13.7.20)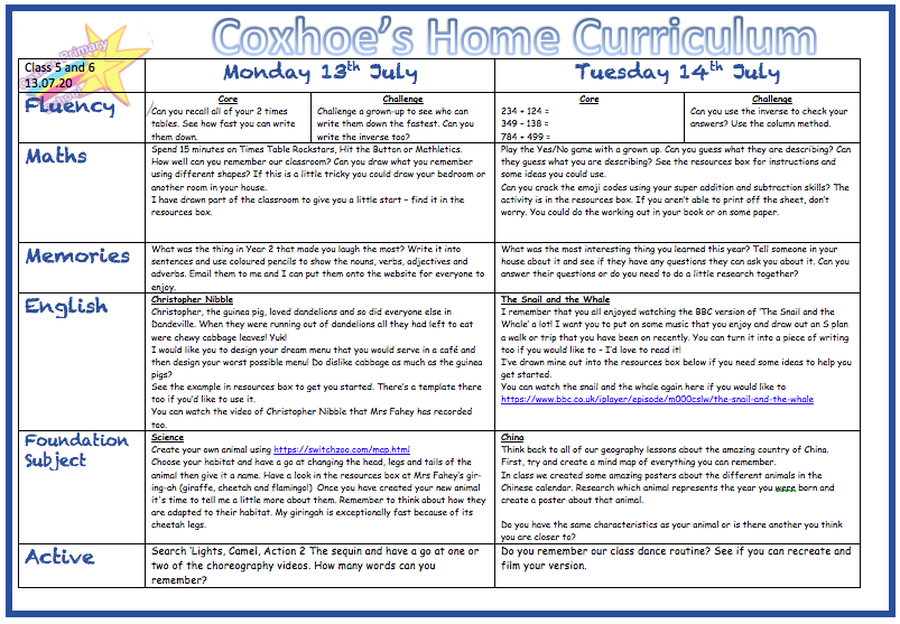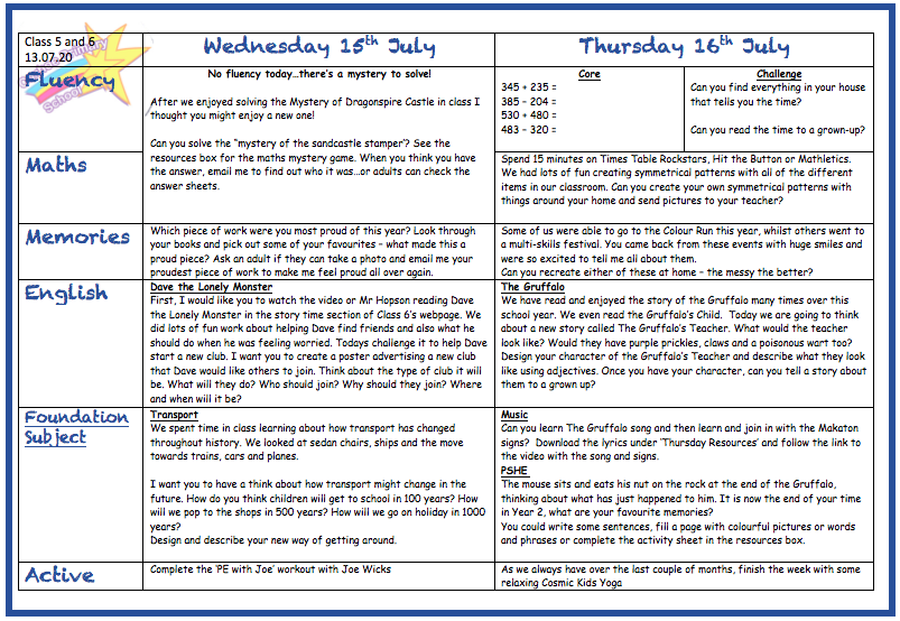 Friday is a free day to have a go at some of the lessons or activities you haven't had chance to try yet. You could also try visiting the Home Learning Hub and have a go at one of the activities set by our other teachers.
You can download a PDF of this week's learning grid here.
Previous Home Learning Grids
If you need any resources or website links from previous weeks, please email the Key Stage 1 inbox.
This Week's Maths Fluency Answers
Keep your eyes peeled for the answers to this weeks fluency questions. We will update them every day so you can check your work.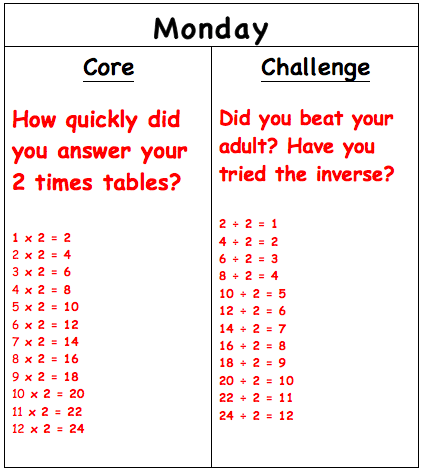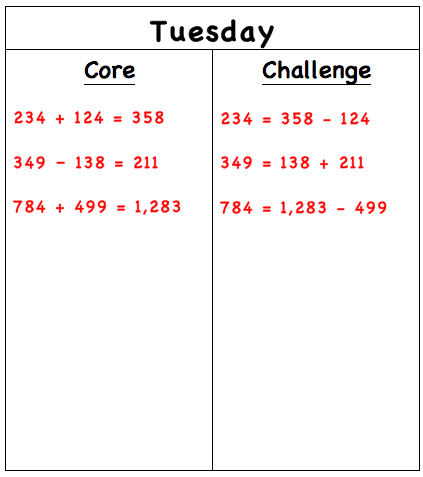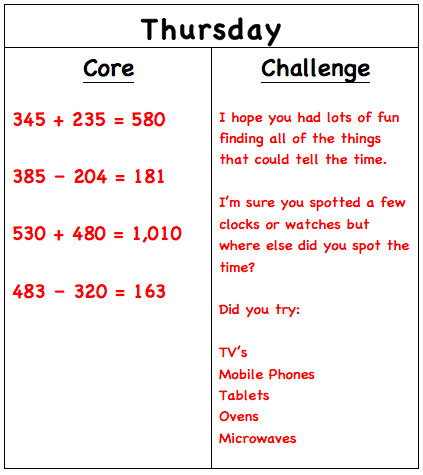 Class 5 Word of the Week: Awesome (adjective)
Definition: Extremely impressive.
Example: Mrs Fahey was proud of how awesome the children in Class 5 were.
Synonyms: breath-taking, amazing, stunning
Antonyms (words that mean the opposite): boring, unimpressive, terrible
Challenge: Can you explain what the word awesome means to an adult? What have you done this year that you thought was awesome? Can you write about it and send your awesome moment to Mrs Fahey?
Mrs Fahey's Silly Sentences
Oh no! Without the boys and girls in Class 5 to help me out, I have made lots of spelling mistakes and errors. Can you green pen my writing? Ask your grown-ups to send me the fixed version.
iT'z the end ov the skool yerr. Eye am sew prowd ov every single won ov yoo. Ova the last foo munths yoo hav wurked veree hard to fix all ov my sillee sentenses. I promise that ova the summa, I will try and get betta at spellings so my next klass do'nt hav too fix them lyk yoo doo.
Last Week's Silly Sentence Answers:
This week is all about getting ready for Year Three. Your new class teacher has sent you activities to try and help them get to know you a bit better. I hope your next teacher doesn't make as many spelling mistakes as I do.
Weekly Spellings - Week Beginning 13th July
This week, you were set the challenge of practising any tricky spellings that you found difficult in Year 2. I want you to come up with your own spelling test.
Pick your ten trickiest spellings and see if you can crack them this week. Why not choose from the words below to make sure you are ready for Year 3 spellings in September.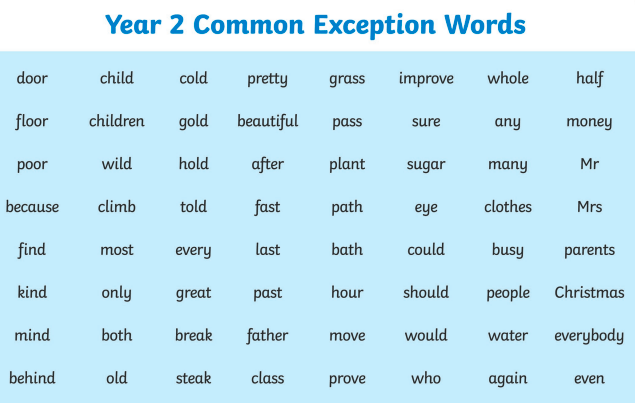 Class 5's letters to their friends
A new letter from Lewis for you to enjoy.
Winnie and Wilbur: Happy Birthday Winnie!
Class 5's Mystery Box Poems
Winnie and Wilbur: The Flying Carpet
What we've been up to ...
Poetry
For poetry week we have been looking at the poem 'What is pink?'
We thought of lots of different things that are the coiours in the poem and then thought of adjectives to describe them. This really helped us when we wrote our own version later in the week.
What is Pink? By L
What is pink? The beautiful flamingo is pink when it splashes in the spring water.
What is red? The cherries are red on sticks in the spikey bushes.
What is blue? The water is blue falling down the fast waterfall.
What is white? The swan is white sailing on the crystal blue sea.
What is yellow? Bees are yellow flying down the hill.
What is green? Leaves are green sticking on the fresh branches of the tree.
What is Pink? By E
What is pink? The flamingo is pink in the sun.
What is red? Rubies are red sparkling in the sun.
What is blue? The whale is blue sailing in the bright ocean.
What is white? Teeth are white sparkling in the light.
What is yellow? The sun is yellow shining in the daylight.
What is green? The seaweed is green lying on the beautiful beach.
Yoga
Class 5 have loved their sessions with Charlotte their yoga teacher - Mrs Fahey has too! Each week the children get immersed in a story where they travel on a journey through a range of yoga poses as well as getting time to practice being still and relaxing.
The warm up of heads, shoulders, yoga pose is a real favourite!
Lights, Camel, Action 2: The Sequin!
We are all exceptionally proud of the hard work Class 5 and 6 put into their Nativity this year. I'm sure you'll agree that they did a fabulous job!
In the words of the Funky Camel - Could you top it? I just know you could not!
European Christmas Decoration Exchange
Class 5 were chosen to take part in a Christmas decoration exchange with 26 schools across 11 different European countries. We collected twigs and branches from the conservation area which were then made into tree shapes by Mrs Fahey. Then they were ready to be wrapped in green wool and transformed into Christmas trees. The children enjoyed wrapping the trees in wool and then decorating using glitter glue and sequins to make them sparkle.
It was an exciting time in December waiting for all of the decorations to arrive in the post and there was a real buzz in the classroom when new decorations were delivered each day and we got to learn a little more about the country they came from and their Christmas traditions.
Taking care of nature
As part if our topic we have been learning about nature in the local environment. We became bird watchers and identified local flowers. We decided to create our own birdfeeders to help wildlife in the colder months. We looked at aerial photographs of the school grounds to help decide where would be best to hang our feeders.
Odd Socks Day
Class 5 took part in Odd Socks Day as part of anti-bullying week. We loved showing off our mixed up socks.
The Gruffalo
In our English lessons we have been reading about the Gruffalo. We went outside and used our senses to imagine what it would be like living in the forest like the Gruffalo. We collected natural resources to create a collage over an image of the woods. We then used the MentiMeter app on the iPads to generate adjectives we could use in our writing.
Guinea Pig Visit
In English we have been reading the story of Christopher Nibble, a guinea pig who loves to eat dandelions. We were very lucky to have some real guinea pigs visit us in class to bring the story to life.
Colour Run
Some of the Year 2 children were given the opportunity to take part in a Colour Run with some children from other schools. The morning consisted of team building activities followed by a run around the track and getting covered in paint. The children's spirits were not dampened by the wet weather and we had smiles galore. We were so impressed by how many laps the children completed, they did not want to stop running! What an exciting, fun and very messy way to spend our morning.
2018-2019
Gibside National Park Trip
Class 5 and 6 had a fantastic day visiting Gibside National Park. We participated in an art in nature workshop where we used natural materials to create our masterpieces. We worked in groups to locate the appropriate materials. We then got to explore the fantastic Strawberry Castle play area and have lots of fun with our friends.
Visit from a Police Officer
We were lucky enough that Miss Haddick's Dad was able to come in and talk to us about the police force. He talked about the importance of staying safe and what to do if we have a problem. He also told us all about different areas of the police. He brought lots of police clothing and equipment with him to show us and talk about what it is used for. We had lots of fun trying on all of the jackets and hats!
Fire Service Visit
We were extremely lucky to have a visit from the fire service today. They came to talk to us in assembly about how to stay safe if there was a fire. We then got to have a go at using the fire hose and even got a little wet! We also got to see the fire engine and some of the equipment that they use.
Zippy Graveyard Trip
As part of our Zippy programme we have looked at different strategies to cope with our emotions and what to do in real life situations. At the moment we are looking at changes and how they can affect us. As part of this we visited the graveyard of St Mary's Church and talked about why it was such a special place. We then took rubbings from the graves to use in our work back at school.
Art Day
As part of our art day we looked at different traditional African drums and how they sound. We created our very own drums and even had a chance to play them!
Pond Dipping
We had an exciting time in our conservation area looking for wildlife in the pond. We used our nets to try and get a closer look at the animals. We were really lucky because we managed to catch a newt and a frog.
Bar Charts
We have looked at different ways to gather information and present it. Miss Haddick gave us some information and we had to create our very own bar charts following the instructions. We then answered questions about the charts and shared what we find.
Fruit Tasting
In literacy we have been reading the book Handa's Surprise. In the story Handa gathers a lot of exotic fruit and puts it in a basket to take to her friend. We had a look at some of these fruits in more detail. As part of our task we looked at their appearance, smell and taste of the fruits. Some of the fruits we really enjoyed and others we weren't so keen on!
Measuring Capacity
We have been learning all about capacity and volume in Maths. As part of this we investigated the volume of different containers and estimated different amounts of water. We had lots of fun trailing various containers and discussing reasons why.
Outdoor Adventures!
We had a fantastic day in Stanley Crook Forest. We worked together to create a bridge across the stream, our very own shelters and even learnt how to camouflage ourselves in the trees. We used all natural materials to help us when building our bridges and shelters and even got to try them out.
Useful Websites, Links and Apps...
Maths
English