Welcome to Class 6 - Mr Hopson
Hello Class Six,
We have made it to the last week of Year 2. This is a time for us to think back and remember all of the amazing things you have achieved over the last school year.
It has been a very strange year indeed. Our first two terms in the classroom were filled with laughter, learning and adventure. In our last school term, when things got even more strange, you amazed me every week by how well you adapted and changed to keep pushing yourselves forward when learning at home.
At the beginning of the year, I was your only teacher but over the last few months, your grown-ups became your teachers too. I want you to always remember how hard they worked to help you, take care of you and to keep your learning going. They are amazing and all deserve a gold card.
But ... We're not finished just yet.
Your learning grid this week has lots of activities to help us keep learning and remind us of some of our favourite activities over the last year. We also have a very special story time video. I think you will recognise some of the names in the story. I hope you like it.
I always call you the best class in the universe and I want to thank you for being a part of our special team this school year. I am so proud of each and every one of you.
Remember to dream big and always shine brightly.
Never give up. Never surrender.
Mr Hopson
Your Monday Message (w/c 13.7.20)
Last Week's Leaderboard (w/c 6.7.20)
Our Home Learning Heroes have sent some fantastic work on email and on Twitter this week.
Home Learning Heroes
Amber 1* Isaac James Annie Freddie
Well done to the boys and girls below, their super online efforts have earned them the following titles:
Mathletics Megastars Lexia Legends Numbot Knights TT Rockstars
James Seth Seth Seth
Sebastian James James James
Alfie 1* Sebastian Cora Alfie 1*
Weekly Learning Grid (w/c 13.7.20)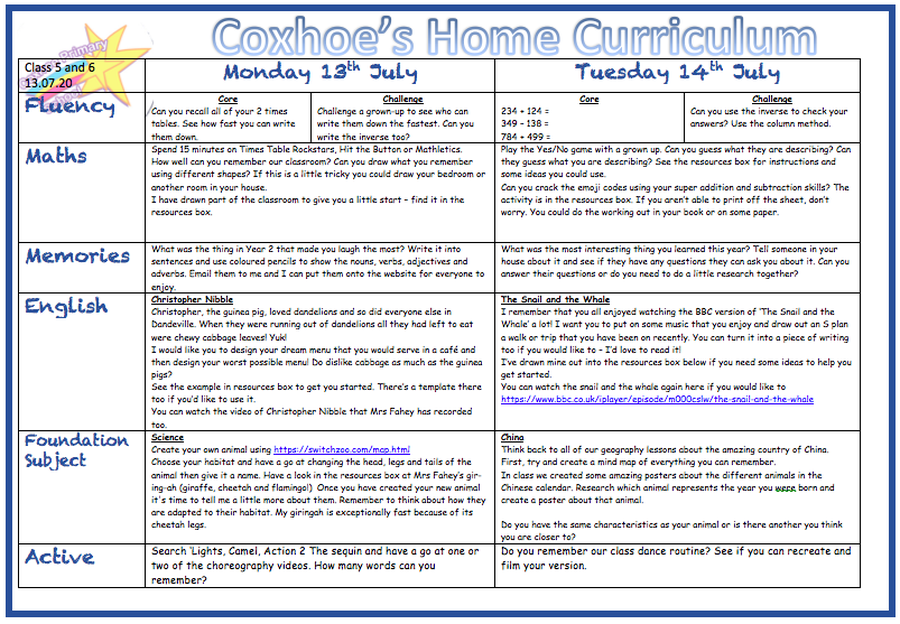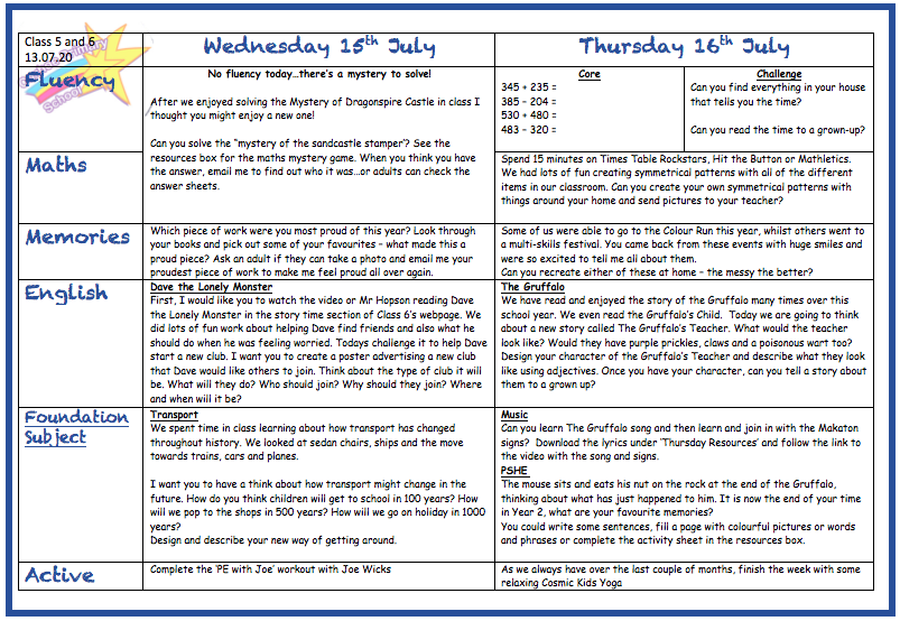 Friday is a free day to have a go at some of the lessons or activities you haven't had chance to try yet. You could also try visiting the Home Learning Hub and have a go at one of the activities set by our other teachers.
You can download a PDF of this week's learning grid here.
This Week's Maths Fluency Answers
Keep your eyes peeled for the answers to this weeks fluency questions. We will update them every day so you can check your work.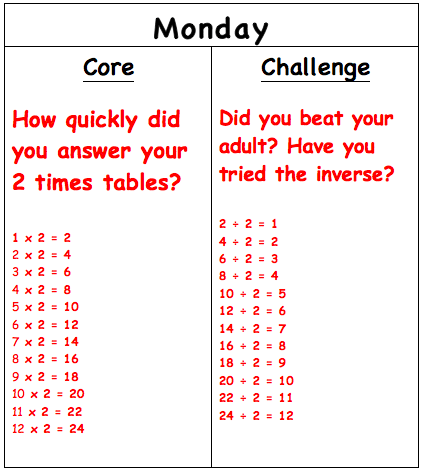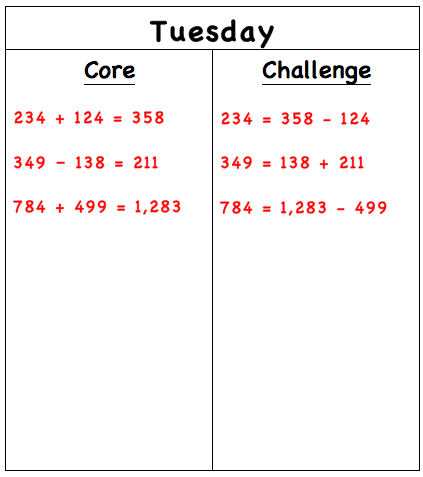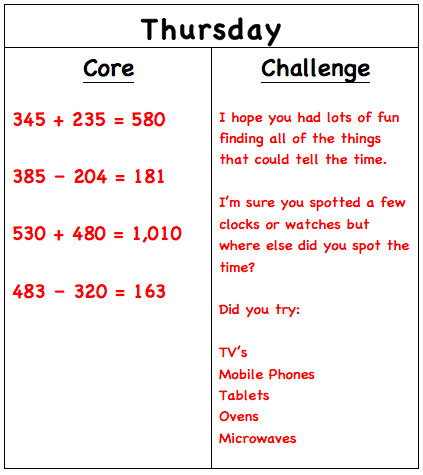 Weekly Spellings - Week Beginning 13th July
This week, you were set the challenge of practising any tricky spellings that you found difficult in Year 2. I want you to come up with your own spelling test.
Pick your ten trickiest spellings and see if you can crack them this week. Why not choose from the words below to make sure you are ready for Year 3 spellings in September?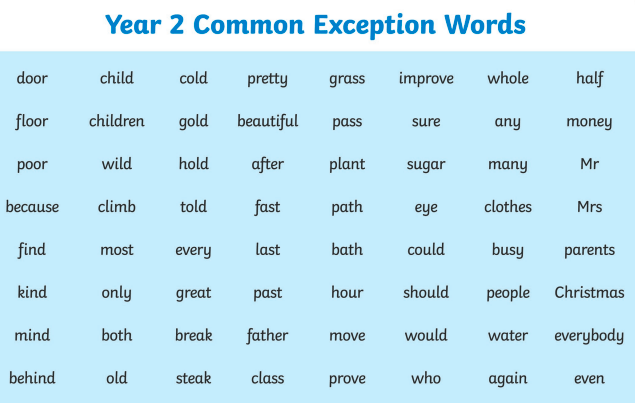 Class 6 Word of the Week
Awesome (adjective)
Definition: Extremely impressive.
Example: Mr Hopson was proud of how awesome the children in Class 6 were.
Synonyms: breath-taking, amazing, stunning
Antonyms (words that mean the opposite): boring, unimpressive, terrible
Challenge: Can you explain what the word awesome means to an adult? What have you done this year that you thought was awesome? Can you write about it and send your awesome moment to Mr Hopson?
Mr Hopson's Silly Sentences
Oh no! Without the boys and girls in Class 6 to help me out, I have made lots of spelling mistakes and errors. Can you green pen my writing? Ask your grown-ups to send me the fixed version.
iT'z the end ov the skool yerr. Eye am sew prowd ov every single won ov yoo. Ova the last foo munths yoo hav wurked veree hard to fix all ov my sillee sentenses. I promise that ova the summa, I will try and get betta at spellings so my next klass do'nt hav too fix them lyk yoo doo.
Last Week's Silly Sentence Answers:
This week is all about getting ready for Year Three. Your new class teacher has sent you activities to try and help them get to know you a bit better. I hope your next teacher doesn't make as many spelling mistakes as I do.
Class 6 Weekly Bonus Challenge
One of may favourite memories from my time in Class 6 is when I got to wear my Christmas suit. It certainly made a few of you smile. Your challenge this week is to design a new suit for me to wear on a different occasion.
Maybe I could be celebrating Halloween, Easter or New Year? Maybe my new suit could celebrate something I like such as Star Wars or The Beatles! Or how about a suit that shows my time in Class 6? You can use the template below or even come up with your own.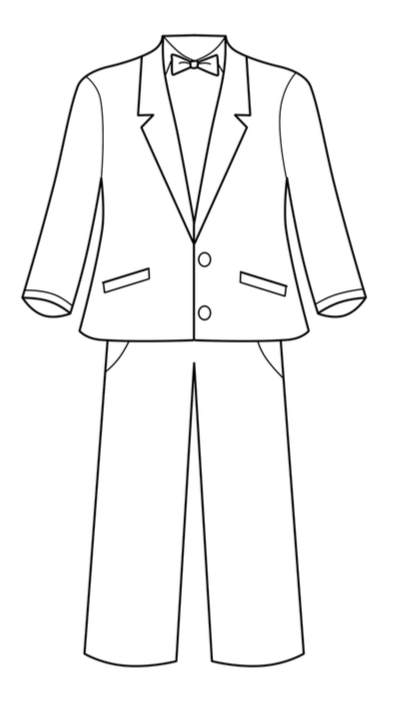 Send your ideas to me on email and I'll display the best ones here.
Something Weird and Wonderful
This looks like a really cool picture that someone drew in the sand while they were at the beach. But what if I told you that this picture is over 2,500 years old and as big as the Empire State Building (443m tall!)
These are the Nazca Lines in Peru. Today we have planes, helicopters and even drones that can fly high in the sky and look down on the world but how on earth did they create these patterns and shapes so long ago?
See if you can find any more examples of people from long ago building incredible things.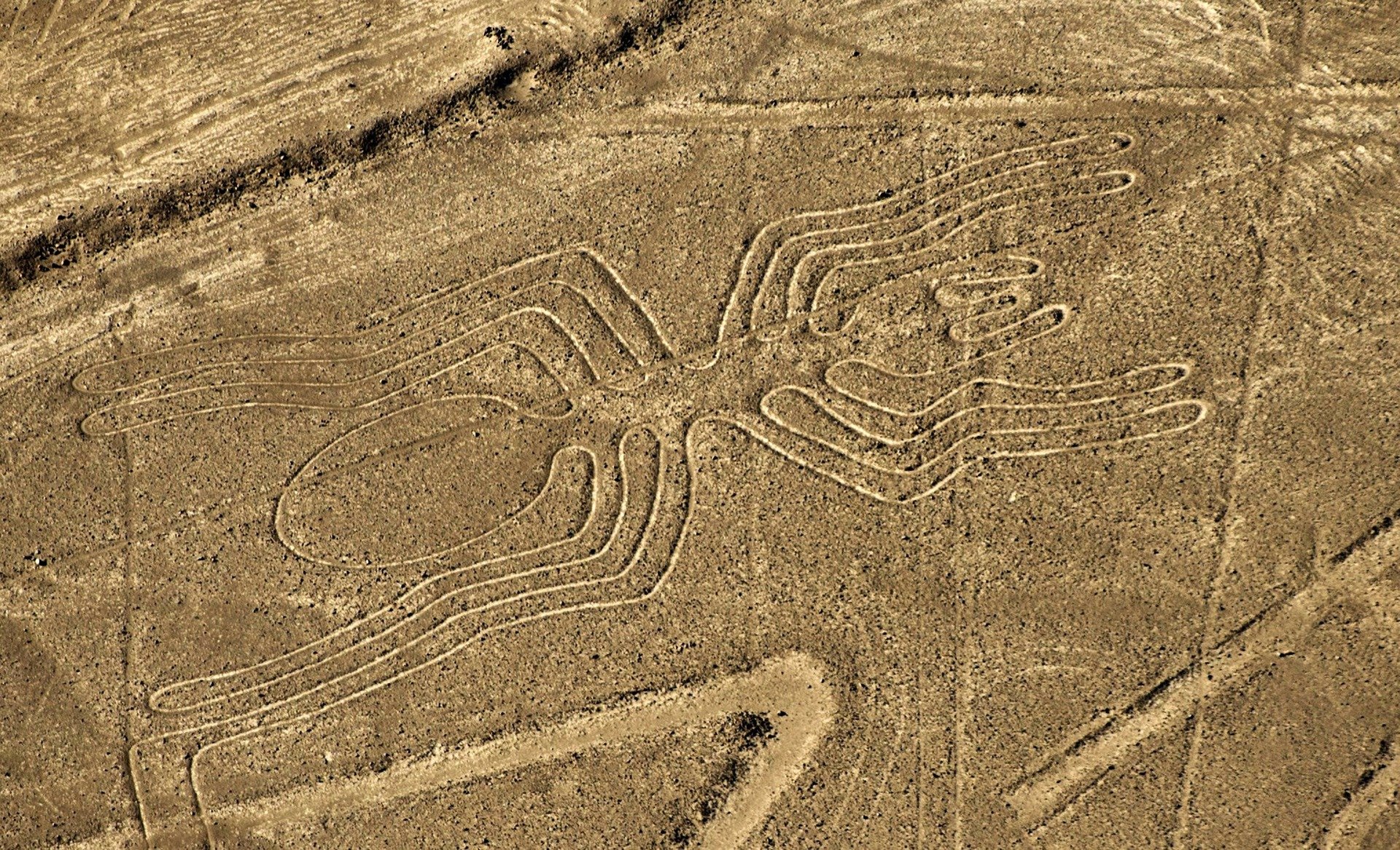 Always remember our class motto, "Never give up! Never surrender!"
We aren't just the best class in the world. We are the best class in the ....(Shout it loud)
Story Time with Mr Hopson
Class 6 Vs The Teachers
You can download your own copy of the story here.
What the Ladybird Heard Next
There's a Dragon in Your Book
Norman The Slug With The Silly Shell
The First Hippo on the Moon
Beekle: The Unimaginary Friend
Supertato: Veggies Assemble
Christopher's Caterpillars
A Suggested Timetable
I know how much you love to see our timetable on a daily and weekly basis so we have created a daily timetable that you may want to follow during your home learning journey.
08:00 - wake up, breakfast, get ready
08:30 - Log on to Lexia or do some reading and get ready for your fun-filled day
09:00 - Supermovers/Just Dance
09:15 - Maths fun - Complete your fluency questions and your daily maths challenge from the grid.
10:15 - Relax, have a break
10:45 - English fun - Complete your VGPS challenge and your daily activity from the grid.
12:00 - Lunch time
13:00 - History/Geography/Science (See the learning grid)
14:00 - Cosmic Yoga (available on YouTube)
14:15 - Have a break
14:30 - Computing/Art/DT/French/Music (See the learning grid)
15:30 - Relax :)
Online Learning Reminder
Although many of the children have accessed some of the free online learning resources over the last few weeks, please remember that on the inside front cover of the children's home learning books, there are usernames and passwords for some absolutely fantastic online activities. Click on the name of the site to go straight to a log-in.
Mathletics - A fantastic resource that has maths challenges assigned to each child by their teacher as well as other activities they can choose.
Numbots - A fantastic maths resource for our younger children. It presents maths challenges in a fun and engaging way.
Lexia - An incredibly valuable online reading resource that helps the children learn a variety of reading and English skills.
Time Table Rockstars - Very popular with the boys and girls, this website tests the children's times table accuracy and speed in a really fun way. The children have been set their 2, 5, 10, 3 and 4 times tables.
Spellodrome - A website paired with Mathletics so uses the same log in details. Excellent for practising key year 2 spellings.
There are also log-in details for several other fun packed sites and apps. If you have any problems accessing these sites, please let me know.
What we have been up to...
Lights, Camel, Action 2: The Sequin!
We are all exceptionally proud of the hard work Class 5 and 6 put into their Nativity this year. I'm sure you'll agree that they did a fabulous job!
In the words of the Funky Camel - Could you top it? I just know you could not!
Enter text...
Creating Bird Feeders
To help local wildlife during the increasingly cold winter, the children created their own bird feeders and filled them with their own tasty recipe (for the birds at least).
Judo!
The children of Class 6 got to try out their very own Judo training session. Our pupils were fantastic in their willingness to take part and their sense of respect and teamwork.
Creating Scenery
Class 6 used our autumnal environment to create their very own deep, dark woods. They used their settings to help write their own descriptions of the characters and settings from The Gruffalo.
Birdwatching
Class 6 spent time outside to investigate the type of winged wildlife around the school by identifying different birds.
Gymnastics Practise
Ahead of our gymnastics festival, the children of Class 6 practised their routines. They combined a family of skills such as balancing, forward rolls, travelling and jumping to create their routine.
Finding Number Sequences
Class 6 used various ways to learn all about how our number families are connected. They spent time outside and on our computers to look at maths in many different ways.
Paired Maths
Class 6 spent some time with some very different teachers during their paired maths lesson. The children of Class 10 coached our children in different mathematical methods to help the solve problems.
Adam Bushnell's Author Visit
Class 6 were lucky enough to get to meet local author, Adam Bushnell. Adam talked to us all about story writing and helped the children come up with some amazing characters using animals from the local wildlife.
Autumn Art Day
The children enjoyed an autumnal themed art day by using the environment around the school to create amazing artwork. Class 6 made their very own leaf collages and used various surfaces to make rubbings based on the artist Max Ernst.
Germs and Hygiene
During our first week, the children in Class 6 investigated how we can stay safe from harmful germs. We looked at how to properly clean our hands and even experimented with how germs can affect a slice of bread (it was not pretty!)
Christopher Nibble
The children have been reading the story of Christopher Nibble, so invited some of his furry friends into the classroom to help us come up with some ideas. Graham the guinea pig and his pals were very popular with the class.
Harvest Festival
Class 6 really enjoyed this year's Harvest Festival. Our unique performance of Pop Go The Peas had popping noises echoing around the church, much to the amusement of our guests.
Map Reading
As part of our geography lesson, the children got to explore maps of our surrounding area and used their map reading skills to navigate around the school. We also looked at Google Maps to search for local and national landmarks.
Searching for Mini-Beasts!
Class 6 have been investigating micro-habitats to see which creepy crawlies they could find all around the school grounds. We uncovered quite a selection of mini-beasts and talked about why they were best suited to the environment they live in.
Useful Websites, Links and Apps ...
Apps-
Alex the Robot
Scratch JR