Welcome to Class 7 - Miss Rodgers
Joke of the week: What goes snap, crackle, squeak? Mice crispies
Hello Class 7,
I can't believe this is our final week in Year 3! We have shared some amazing memories together and you truly are a class I will never forget. Each and every one of you has a personality that can brighten up the world. We have laughed, joked, learned and had so much fun together but now I have to hand you over to your new teachers.
I have done a lot of thinking over the past couple of weeks about my favourite memories we have shared together and these are my top 3:
Winning the KS2 dance festival
Invading Coxhoe Primary School
Our trip to Coxhoe Park
What were your favourite memories of Class 7?
We are so close to the six weeks holidays I can almost taste them. This year's six weeks holidays are well deserved and I hope you get up to so many exciting adventures. I can't wait to hear all about them! You have worked so incredibly hard all year round, even whilst at home, and truly deserve to have as much fun as possible.
I have thoroughly enjoyed every minute of being Class 7's teacher and I feel privileged to have got to know, love and teach such wonderful children. I know that each one of you will achieve so much in life and I'm proud to have played a role in that. Good luck for Year 4 and remember that I'm only a classroom away!
Love,
Miss Rodgers
Home Learning Heroes!
Every single member of Class 7! You have all worked super hard, completed amazing work and have made me the proudest teacher in the universe. You are all home-learning heroes!
Your Weekly Grid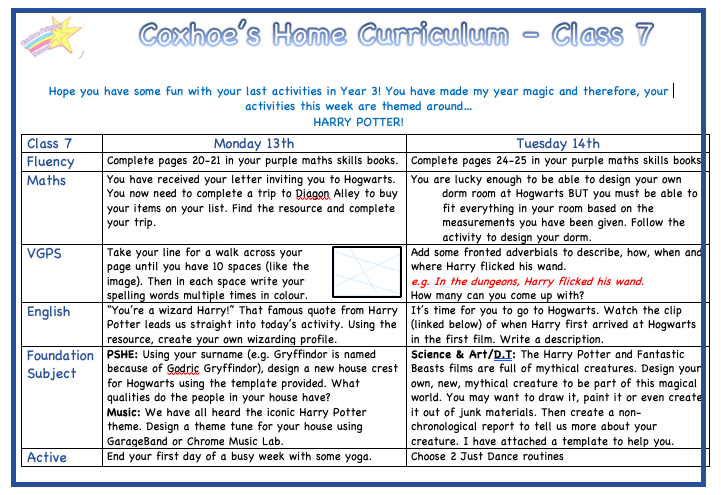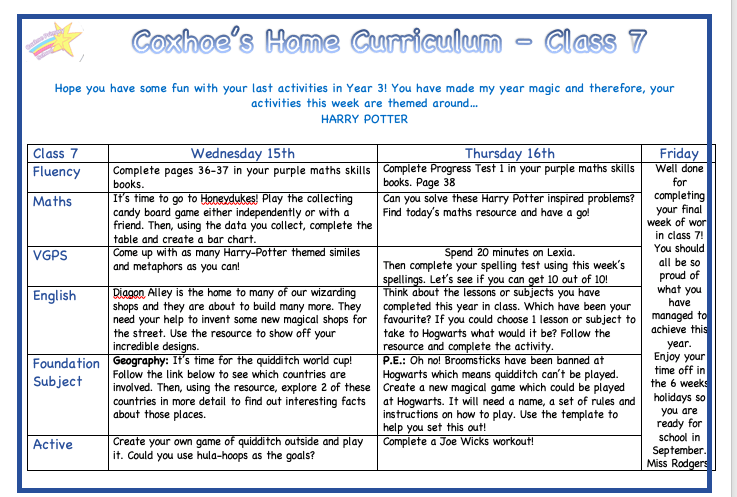 Downloadable copies here:
Resources
Your spelling words are:

crinkly
sparkly
frantically
dramatically
mentally
normally
basically
publicly
truly
wholly

A sparkly dragon dramatically entered the Gryffindor common room.

Harry frantically searched for his wand before Malfoy could publicly tell everybody he had lost it.

Ron mentally made a note to get his crinkly robe ironed.

Normally, we would use a different spell even though they are basically the same.

The Wizarding World is wholly chaotic and no wizard or witch can truly know every spell by heart.

Ladybirds' spelling words are:

blew
blue
quite
quiet
here
hear
their
they're
there
everybody

The wind nearly blew Harry off his broomstick.

Ravenclaw students must wear blue badges.

It is quite scary when you walk into The Great Hall for the first time.

Can you hear the ghosts in the walls or are they too quiet?

I'll meet you here in the Gryffindor common room.

I gave Ron and Hermione their robes.

Your wand is over there!

Everybody loves Every-Flavour Beans.

They're the best.
Word of the Week
Mystical adjective
Definition : Inspiring a sense of mystery, awe or fascination.
The mystical wizarding school named Hogwarts.
Synonym (similar) : magical, paranormal
Antonym (opposite) : exoteric
Challenge : Can you make a mystical object?
Class 7 Letters Page
I know that we are missing our friends a lot at the moment so I thought it would be nice to come up with a way to remind them that we are still thinking of them. If you would like to send a message, write a short letter or note to your classmates and I will put a copy of it here on our webpage. Your letter might tell your friends what you have been doing or how you are feeling. Maybe you could tell people what you are looking forward to.
We need to follow a few rules so that I can add your letter to the website:
1) We only use our first names and our friends first names. We do not use our last names.
2) We don't share any personal or private details like our telephone numbers or addresses.
3) Our letter will be on the internet so we need to remember all the different ways we keep ourselves safe online.
Email your letter to me and I will add it to this part of our webpage for all of your friends to see.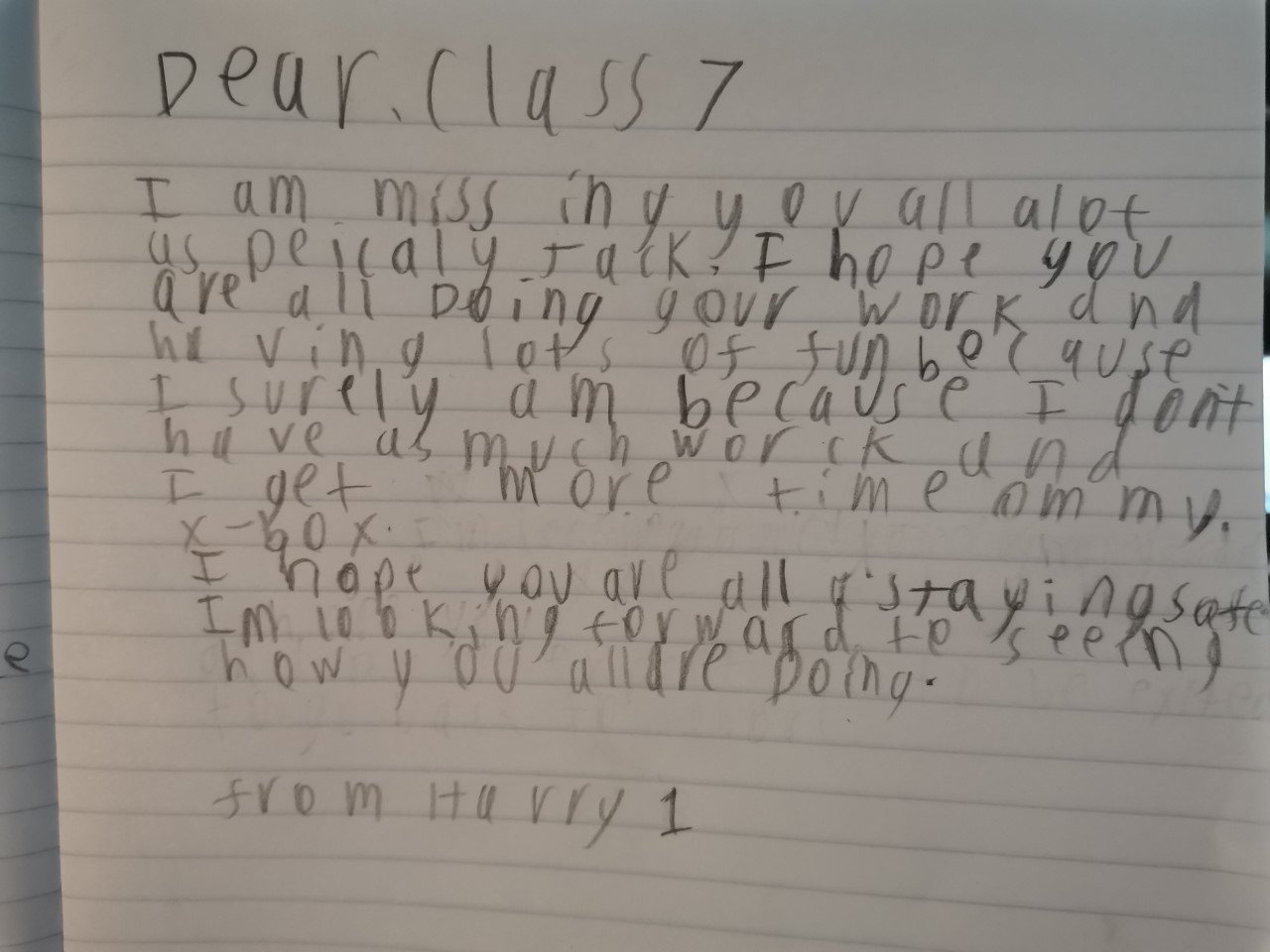 Story Time - The Very Sleepy Sloth
Find previous weeks' story times here:
Story Time - Harry Potter
Suggested Timetable
08:00 - Wake up, eat breakfast and get ready for some fun-filled learning!
08:35 - Morning reading. You could even do an accelerated reader quiz using the QR code!
09:00 - P.E. with Joe Wicks/ Supermovers/ just dance/ Jump start Jonny.
09:15 - Fluency questions and maths jobs.
10:15 - Break time!
10:45- Time to complete your SPAG and English work.
11:45 - Guided reading/lexia/spelling - you could even create your own version of the carousel.
12:15 - Lunch time!
1:15 - Foundation subject activity.
2:00 - Active learning activity.
2:15 - Finish any unfinished work.
3:00 - Read your book to your teddies for story time!
3:30 - Tidy up and relax!
What we have been up to...
Collecting Sounds
For poetry week, Class 7 looked at the poem "The Sound Collector". We went outside and collected our own sounds. We heard; the whistling of the wind, the snapping of the sticks and the rattling of the rocks, just to name a few. After collecting our sounds we wrote our own version of the poem.
Here is a poem one of our class mates wrote that blew our socks off:
The Wolf Pack
Some wolves came this morning,
And stood up at the door,
As they all ran away,
They tapped the forest floor.
The howling of the wolves,
The snapping of the sticks,
The shouting of the children,
The crumbling of the bricks.
The blowing of the whistle,
The swaying of the trees,
The stomping of the children,
The crunching of the leaves.
The burning of the sunshine,
The tweeting of the birds,
The whistling of the wind,
The shouting out the words.
- Harry.
Invertebrate Hunt
In science we have been learning how to categorise and sort different animals. We recently learned that some animals don't have backbones! They are called invertebrates. We decided to go hunting for some invertebrates in our conservation area and we found that most of them lived under rocks. We used this knowledge to design an ideal home for an invertebrate.
Computing and Geography
Class 7 have been learning all about the UK. They combined their knowledge of north, east, south, west to programming B-Bots. They chose some key cities in the UK and created algorithms for the B-Bots to visit them on the map. The B-Bots visited London, Birmingham, Newcastle and some even managed to get to Coxhoe!
Dojo party at the park
Class 7 finally reached 2,000 dojos for being amazing! They decided they wanted to take their teddies for a ride on the roundabout and swing on the swings at Coxhoe park. As you can see they absolutely loved every minute of it - especially the snacks!
Remembrance Day
One of the members of Class 7 kindly brought in his Great Grandfather's medals from the war to show us all. We loved listening to their back story and had so many questions! How amazing!
Interfaith Month - Sikhism
Today in Class 7 we were so lucky to have a visit from Cloud Singh! He answered all of our questions about Sikhism and even offered to take a silly picture with us. He taught us all about his God and the items he wears every day. We were so engaged therefore we decided to make our own presentations about what he had taught us. We were extremely brave and shared our presentations with the class!
Active Maths
In maths, we have been learning how to add 10s to a 3-digit number, even when it crosses 100! To consolidate our learning we grabbed a whiteboard and pen and went outside to play some maths related games.
First, half of us had to write a 3-digit number while the other half wrote a number in the 10 times table. When Miss Rodgers blew her whistle we had to pair up with a person from the other group and add our numbers together.
After that, we had to think of our own 3-digit number and run round the track. When we turned our body to change direction we had to add 20 to our number. We loved the responsibility of deciding when we should add 20!
History - Anglo-Saxon Invasion
In history we have been learning about Anglo-Saxons. We looked at where the Anglo-Saxons came from and how they arrived in England. A lot of us struggled to understand what an 'invasion' was... so we went on one!
Here is Class 7 invading Coxhoe Primary School.
European Day of Languages
We had a language-packed day of fun! First, we had a very special visitor who taught us lots about French. We loved role-playing a French conversation.
After, we had a race around the world, where we had to gather different information about different countries. We had so much fun and learned a lot about other places in the world!
Art Day
We got super messy with paint. We used different materials to print our name in Anglo-Saxon runes. We found that fabric was really hard as it went all floppy in the paint, but pipe cleaners were easy because you could shape them first!
Active Maths
In maths, we have been looking at numbers up to 1000!
Today, Miss Rodgers sneakily hid lots of different 3-digit numbers around our yard. In groups, we had to find the different numbers and put them in ascending and descending order. It was super easy until we found numbers that started with the same digit!
Adam Bushnell Visit
We were so lucky to have been visited by the amazing author Adam Bushnell. He knew, strangely, that we had been learning about the Anglo-Saxons and reading the book Beowulf. He planned a creative English lesson around this book. We got to hold Anglo-Saxon artefacts and create our own monster for Beowulf to defeat.
(Ask us about kennings)
Science - Which materials reflect light?
We used torches to investigate different materials that reflect light. We know that light travels in straight lines, but we wanted to work out how we could bend those lines. We found that the shiny foil, high-visibility jacket and the mirrors worked the best!
Science - What is Darkness?
In science, we are learning about light. We investigated why we need light and what it would be like if we didn't have it. Miss Rodgers hid some items in different boxes and we had to look in them and work out what they were. We soon discovered that this was impossible because there was no light in the boxes. We now know that what we saw was darkness and we need light to be able to see.
... However, some of us did have the sneaky idea to open the boxes and use the light from the room to see the items!
PHSE Week - Money and Finance
As a part of our PHSE topic, we learnt all about how to manage our money and finance and how we can earn our money when we're older. We found it interesting that money doesn't just "come out of a machine".
We now know the terms lending and borrowing and created our own 'debt story'. This involved working as a group to sequence a set of pictures and create our own drama piece about how people get into debt.