Please note that all documents can be provided in paper form and are available in large print
Welcome to Coxhoe Primary School
At Coxhoe Primary School we believe in the value of every child and adult who enters our doors. By feeling valued and respected, as an individual, we seek to encourage each person to show value and respect towards one another, joining together to build a happy, forward thinking community. We strive to make our school a place where all are encouraged to reach for and achieve their potential, leaving them equipped and empowered for the next stage of their learning journey.
MISSION STATEMENT
Our school aims to consider the uniqueness and individual needs of its pupils by delivering a broad, balanced differentiated and relevant curriculum.
ETHOS AND VALUES
Each child is considered as a whole person developing skills, concepts and attitudes necessary for the opportunities and experiences of the future. We aim to prepare children to reach their full potential as responsible citizens.
Our school aspires to value everyone associated with it, irrespective of age, position, race, gender, background or ability. We endeavour to motivate, support and inspire personal, spiritual, emotional and educational growth in a safe and secure environment.
We aim to unite, parents, pupils, governors, staff, L.E.A. and the local community, through agreed school policies, which aim to deliver a quality educational service. This partnership has helped us to develop together the following aims for all our pupils:
Curriculum Aims
The curriculum will encourage all pupils to understand, be interested in and show respect to others, whilst also developing their own self esteem.
The curriculum will enable pupils to become literate and numerate, having confidence when communicating, working with and responding to others.
The curriculum will enable pupils to develop analytical problem solving skills.
The curriculum will develop independence in our pupils enabling them to make healthy, safe life choices for themselves and others.
COXHOE PRIMARY CURRICULUM
Please see class pages for a long term overview. Their 'What we've been up to' pages also provide a flavour of the breadth of curriculum offered.
Netball Champions
The Netball team were crowned league champions this week! After going through all of their matches undefeated, they managed to secure a 2-1 win in the final. The team improved with each game and thoroughly deserved their success.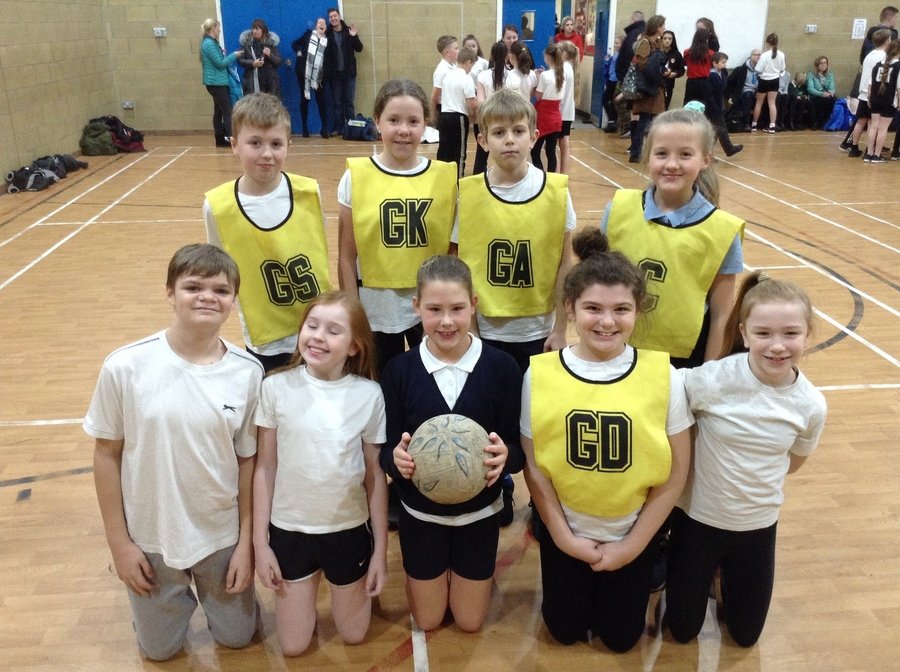 Year 2 - Year 6 Anti- Bullying Theatre Performance
Firehorse Theatre came and performed their fabulous play The B Word. In the play new girl Danni was bullied and the audience was able to see the devastating effect this had on her. The audience were asked to work with Danni to help her stop her bullies.
No one should be bullied. If you are bullied or see someone else being bullied please tell a trusted adult so it can be stopped.
Tell it, share it, stop it!
Coxhoe Primary Remembrance Day was on Thursday 8th November. The children took part in activities linked to various topics about soldiers. We had an assembly to share what we had learned and show what we had made. We all joined in the 2 minute silence at 11am to remember those who have fought for us.
We are very proud to announce that we raised £900 for MacMillan Cancer support on Friday with a fantastic team effort. Staff children and family members were all star bakers and the selection on offer was mouthwatering.
The staff bake off was most impressive and the judges found it very difficult to select a winner - the four top bakes were almond cupcakes, white chocolate and raspberry brownies, ginger cake and finally 'not just any chocolate cake'!
The children all enjoyed their treats in the morning and we were delighted that so many family members joined us in the afternoon - the hall was buzzing! The warm and friendly atmosphere, the busy sales and tremendous total just go to show what a fabulous school family we are! Many thanks to all involved and a special thank you to PTA volunteers who were able to help on stalls throughout the day.
The raffle was drawn at the end of the event and the prizes can be collected on Monday. Winning numbers will be posted in the community notice board and on the App on Monday.
Football League
The SSP Football League concluded on Thursday evening and the final places were decided. Improving with every game, the A team managed 3rd place and the B team came 5th. Both teams will be hoping to carry on their form when both teams take part in the Football Cup next half-term. Well played!
Cross Country Success
A huge well done to all the teams who took part in the Cross country Festival at Ferryhill. There were some outstanding individual and team performances, which helped Coxhoe achieve third place overall. The Year 5/6 Girls' team earned a Bronze medal and the Year 5/6 Boys carried on their league form to take Gold. A special mention to Charlie, Sinead, Henry and Max for their podium finishes, who along with the Boys team will represent Sedgefield at the County Finals in March. Top job everyone!
The amazing author and storyteller Adam Bushnell visited our school on Monday 17th September. He worked with all of our children across the school in order to inspire them to write about their topics this term. Topics included The Vikings, Stone Age, Magic, Explorers and Superheroes. The children had a great day exploring these topics with Adam as you can see from our photographs!
We are so proud of Sophie Evans this week! She was invited to a presentation in Durham to celebrate winning an OASES competition to design a logo for their campaign to reduce our carbon footprint in schools. She was presented with her design and prize by the mayor of Durham and as you can see she had lots of fun!
SCHOOL HOLIDAY DATES can be found in the Recent Letters section of the website. Please check carefully when booking your holiday. Holidays taken during term time are very disruptive for children and research has shown that children with poor attendance tend to achieve less in both primary and secondary school.
Holidays during term time will only be authorised by the Head Teacher in exceptional circumstance.
Latest School Calendar Events
Half Term

18

Feb

2019

Bake Sale Class 11

01

Mar

2019

3:30 pm - 4:30 pm

Shrove Tuesday

05

Mar

2019

World Book Day

07

Mar

2019

Bedtime Story Night

07

Mar

2019

5:30 pm - 6:30 pm

Science Week

11

Mar

2019

12:00 am - 15 mar, 1:00 am

Parents evening

18

Mar

2019

3:30 pm - 6:00 pm
BBC Newsround
Latest Newsround stories
The Coxhoe website uses Webanywhere's School Jotter web design and content management system - try out this School Website Builder.
Webanywhere are specialists in education sites and learning platform or VLE (virtual learning environment) services for schools. They are currently offering a free trial of their own Learnanywhere VLE - designed specifically for primary schools - to register for the trial just fill in the form here: Learnanywhere VLE