Art and Design
What we say about Art at Coxhoe Primary School...
"On art day I enjoy doing crafts and my favourite activity that I have ever done was tie dye."
"I love getting messy on art day. My favourite thing was making a necklace."
"I like to paint and draw patterns."
"I love having a full day of art so that we can paint and make things linked to our class topic."
Art Ambassadors
(2022 - 2023)
"Hello everyone, we are the Art Ambassadors, Phoebe, Tyler, Harry and Aiden. This term we are focussing on shading and sketching and other drawing skills. We also have Art Days, where we explore famous painters and make our own art pieces. We enjoy Art because we get to use colourful paints and pencils and learn new skills. It is an exciting subject!"
Phoebe: "I like sculpting and drawing. Sculpting because I can make things and drawing because I can express what I'm feeling and things I'm interested in through drawing."
Harry: "I like Paleo art because I like drawing pre-historic animals and plants."
https://en.wikipedia.org/wiki/Paleoart
Aiden: "I like painting because it can make you focus, entertain you and is very colourful."
Curriculum Intent
At Coxhoe Primary school we aim to provide children with a world-class art and design education. We engage, inspire and challenge children, equipping them with the knowledge and skills to participate in, experiment with, invent and create their own works of art, craft and design. Children and young people will be consistently given the opportunity to think creatively and critically.
Exciting Times!
In July we collaborated with local sand artist, Claire Eason to create a large-scale portrait of the late Queen Elizabeth II. This week we sadly, mourned the loss of Queen Elizabeth II. As a result, Claire sent in a collection of portraits of the Queen that she had created across the region. The journalist in charge of the article picked out our image, created on Roker beach to feature in a special edition of The Times newspaper.
Claire kindly bought all children involved a copy of the special edition newspaper for them to treasure as a keepsake.
We think you'll agree that this was not only a fantastic achievement but also a touching tribute at this special time.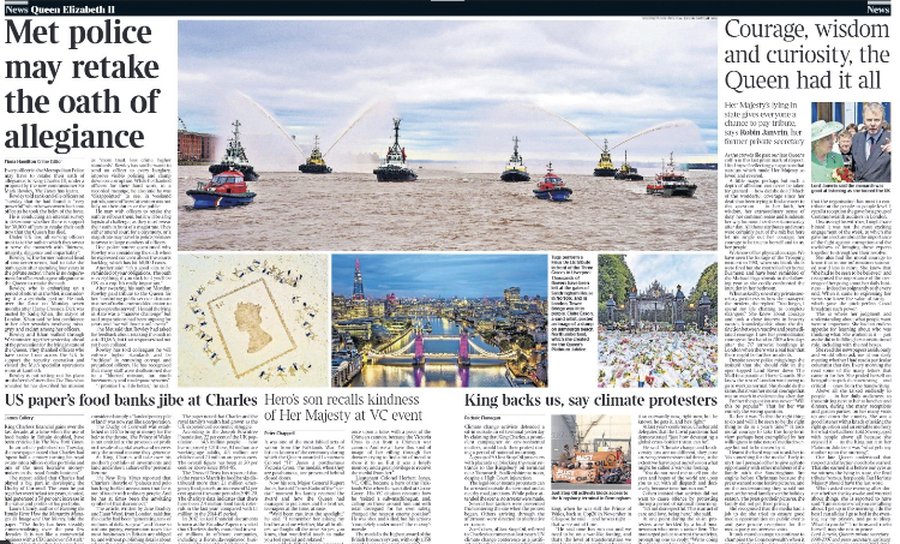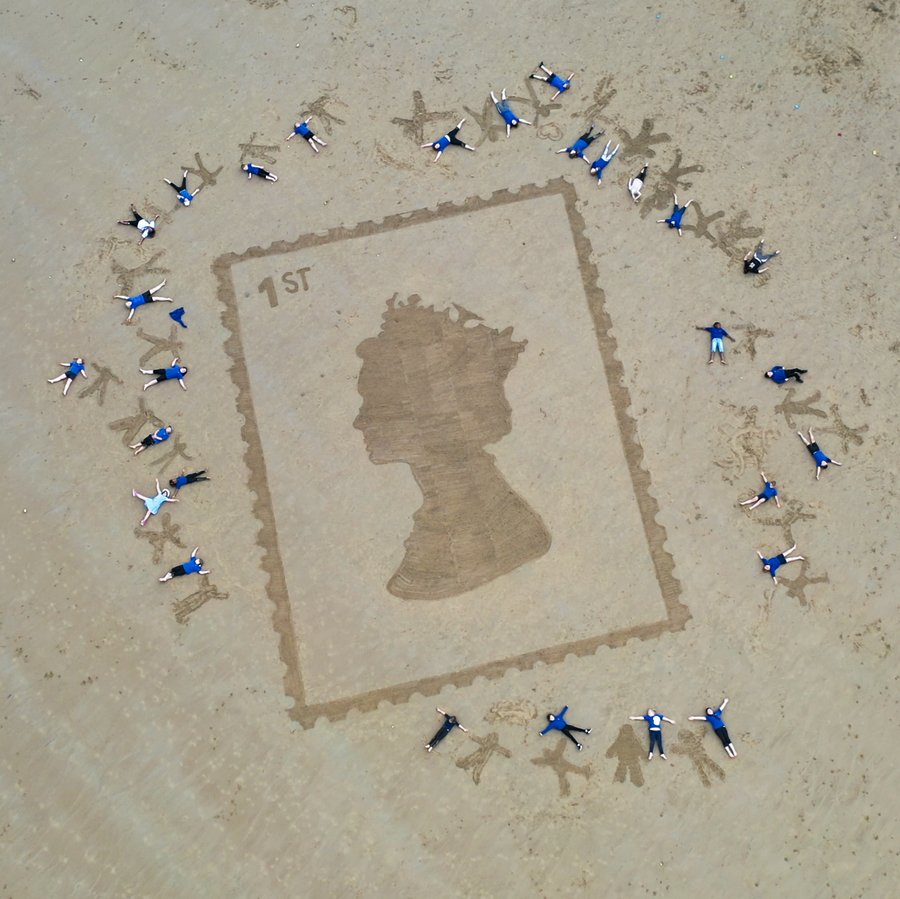 Platinum Jubilee Celebrations
Children celebrated 70 years of the Queen's reign this week. We wanted to create a large scale portrait of her majesty to put on show at our jubilee picnic. Each child brought in a button from home and took it in turns to carefully position their button on to a canvas.
The finished piece looked magnificent and stood proud, as it watched over everyone enjoying their tasty treats at the jubilee picnic.
God save the Queen!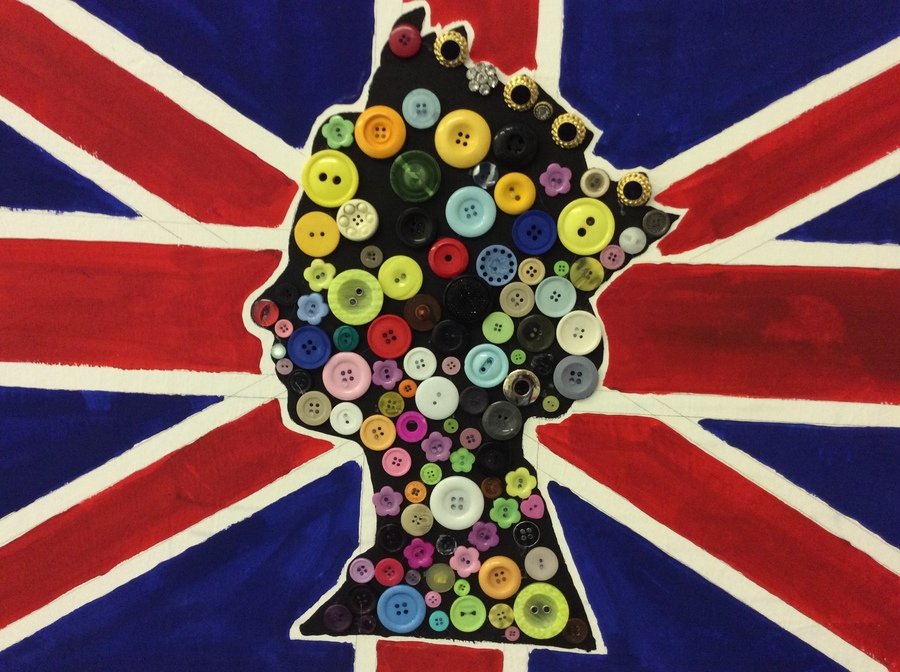 Forest School
Weaving
Art is everywhere
! Children in forest school have been reading the Julia Donaldson book, Superworm. They thoroughly enjoyed reading it, particularly the illustrations!
The illustrations inspired the children to take part in some weaving...
They found lots of "Superworms" (lengths of wool) hiding in the trees and used these to weave into a wooden frame. The children then decided it would be beautiful if they added some
natural resources
(pine cones, sticks, flowers and leaves) from outdoors to weave into the artwork too.
What a wonderful skill they have all learned!
Arts Award Discover
Arts Award Discover - Arts Award
Children in year 2 have been working with Durham University to achieve an exciting arts award.
To achieve the award children took part in a virtual learning experience. The university provided inks, rollers and printing materials which helped the children to design and create 3D prints based on their favourite stories.
Spot their favourite stories below...
Wow!
Take a look at the fantastic artwork from a member of year 2.
The children were asked to look closely at the features of a gorilla's face. They then had to complete the other side of the face.
Look at their fantastic use of colour matching and blending!
I love how you managed to create texture by changing the direction of your pencil strokes!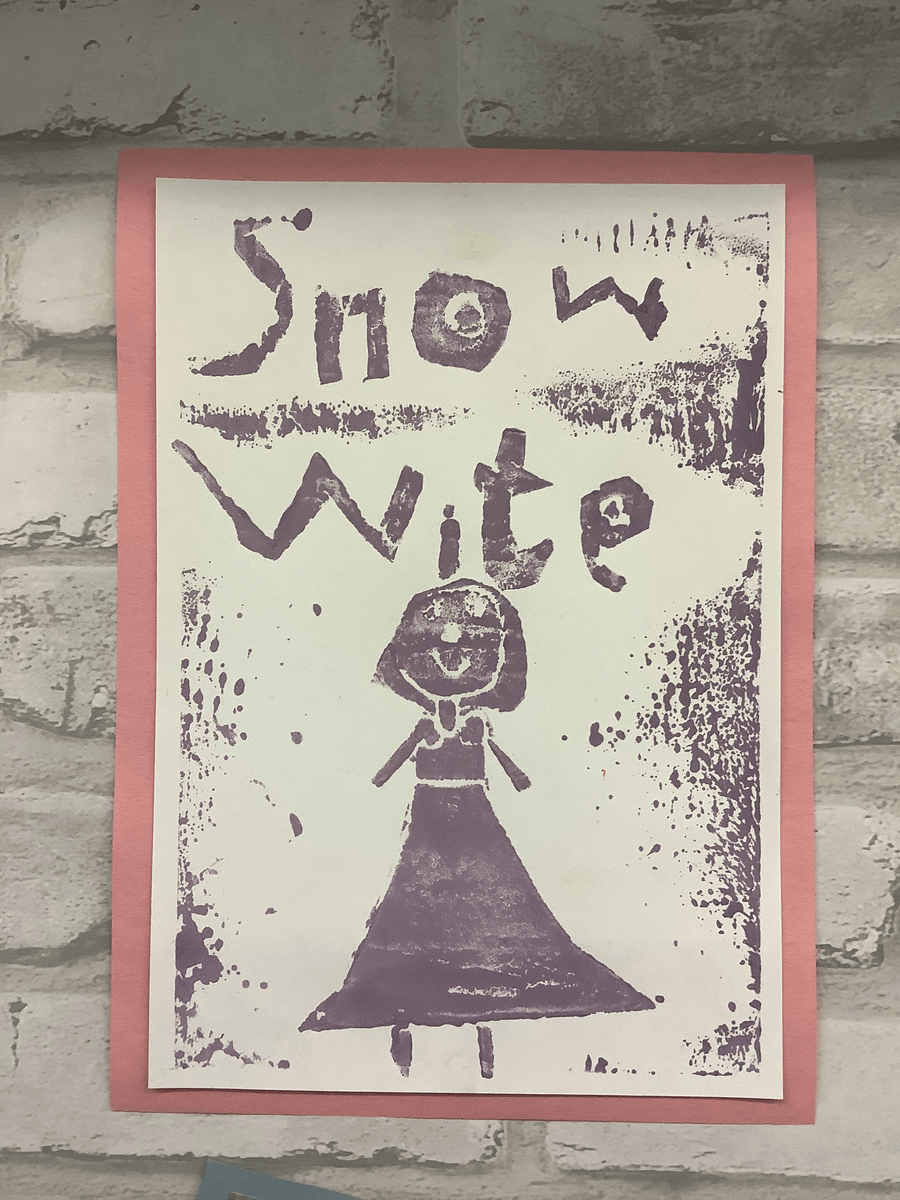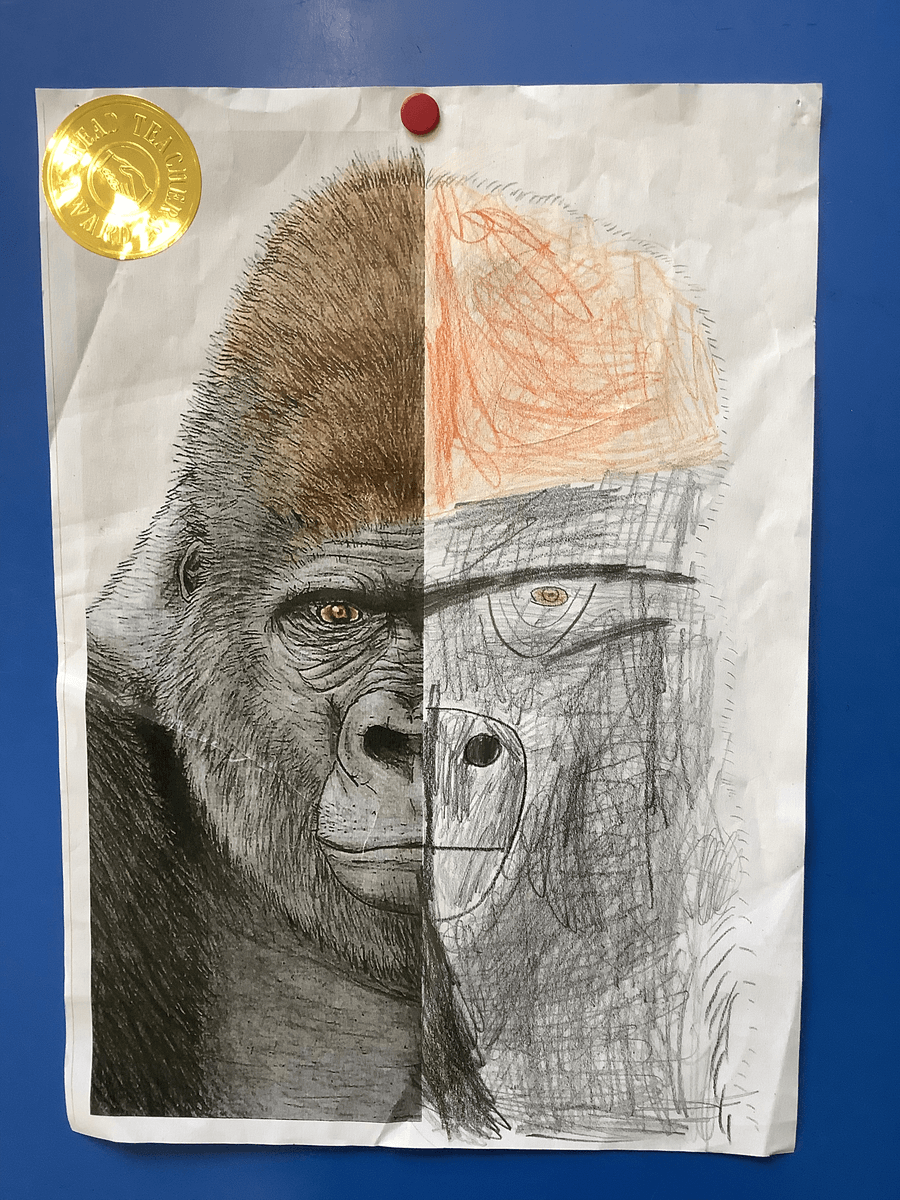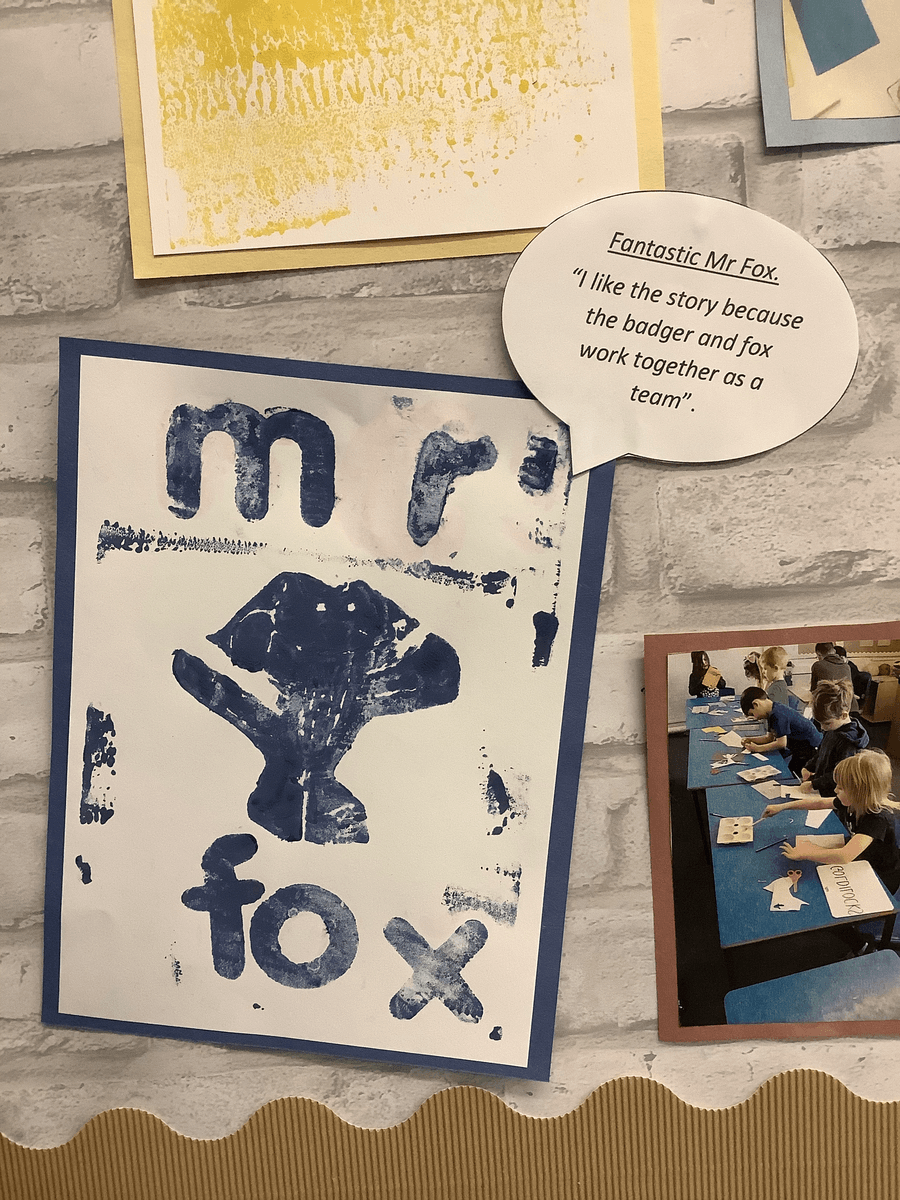 Clay
Children in year 3 and 4 have been reading Roald Dahl's, Fantastic Mr Fox. They looked closely at Quentin Blake's illustrations, focussing mainly on the wicked characters, Boggis, Bunce and Bean.
They then, used clay to create a 3D portrait of their chosen character. Look how they have added texture to the clay to create their hair. Note how they have manipulated the clay to create prominent features of each face.
String Printing
Rowling, Morpurgo and Walliams have been busy during their Art drop-down day.
They have been looking at artists who use string to create some interesting installations and prints.
This inspired them to make some string art of their own.
They carefully sketched out their ideas then glued string on to cardboard to create a printing block. After that, they dipped the printing block into acrylic paint and transferred the print onto paper.
Take a look at their progress below...
Black History Month
Our talented artists at Coxhoe Primary have been working hard to create magnificent portraits of inspirational people within black history.
Take a look at their creations...
Visual Literacy
Mona Lisa
by Leonardo da Vinci
According to Leonardo da Vinci's biographer, Giorgio Vasari, the painter started Mona Lisa in 1503 and took four years to complete the masterpiece.
Become an art critic: Look closely at the painting.
Ask yourself...
Who is she?
What is she thinking?
Where has she been?
Where is she going?
Why did Leonardo da Vinci decide to paint her?
Artist to inspire you...
Doodle Boy
Joe always used to doodle after he'd finished his schoolwork, so his parents decided to send him to an art class.
It wasn't long before his quirky and funny characters started to attract attention, and he became known as 'The Doodle Boy'.
https://www.bbc.co.uk/newsround/51211763#:~:text=Joe%20always%20used%20to%20doodle,as%20'The%20Doodle%20Boy'.
Andy Warhol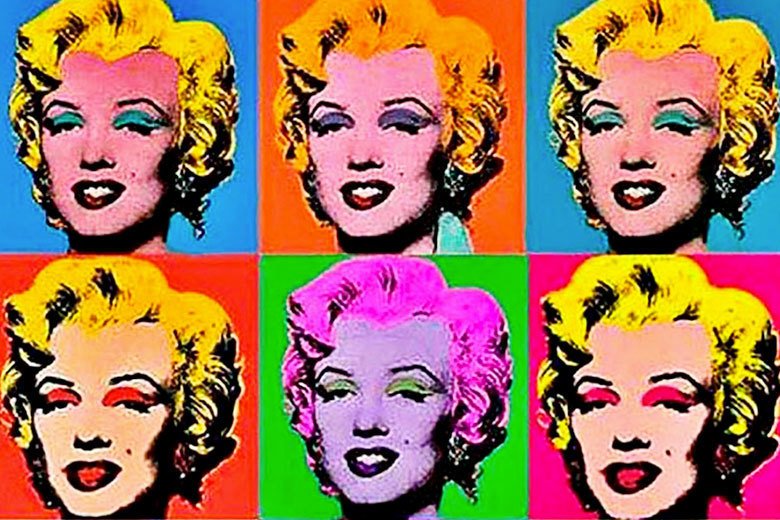 Andy Warhol was an American artist, film director, and producer who was a leading figure in the visual art movement known as pop art. His work explores the relationship between artistic expression, advertising, and celebrity culture that flourished by the 1960s. He uses a variety of media, including painting, silkscreening, photography, film, and sculpture.
David Hockney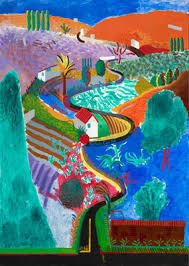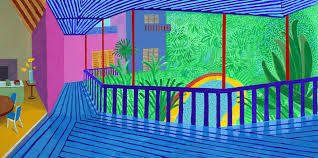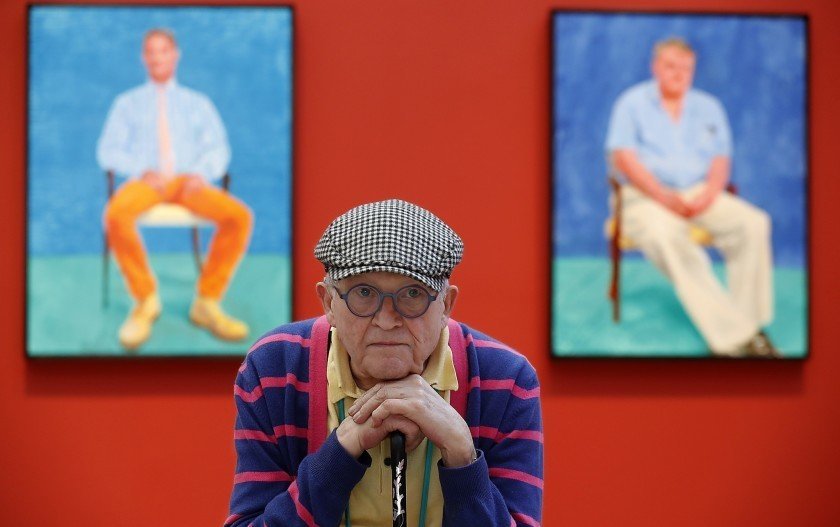 Hockney was born 9 July 1937 and is a British painter, draftsman, printmaker, stage designer, and photographer. As an important contributor to the pop art movement of the 1960s, he is considered one of the most influential British artists of the 20th century.
Hockney has owned a home and studio in Bridlington and London, and two residences in California, where he has lived on and off since 1964: one in the Hollywood Hills, one in Malibu, and an office and archives on Santa Monica Boulevard in West Hollywood, California
Banksy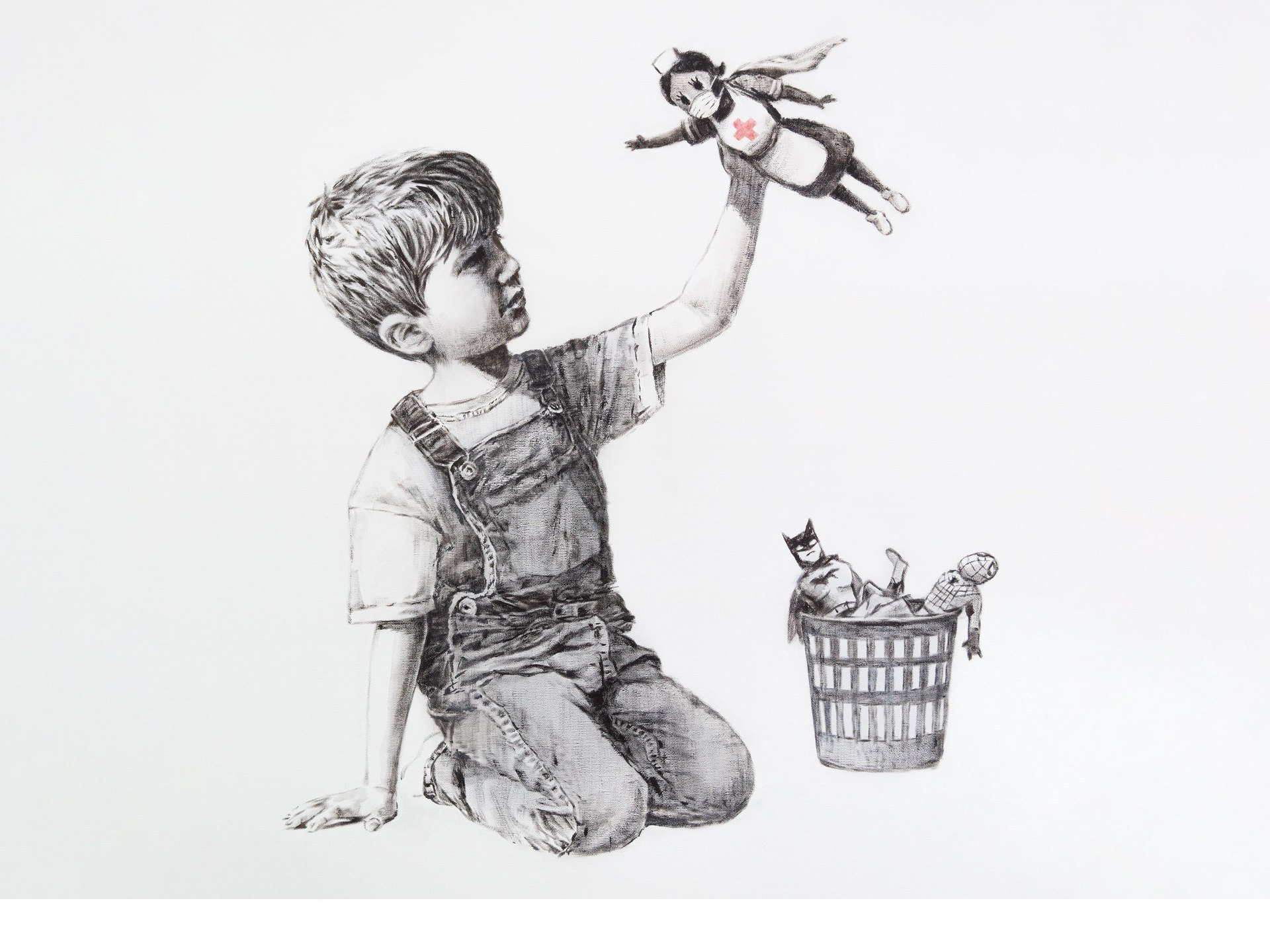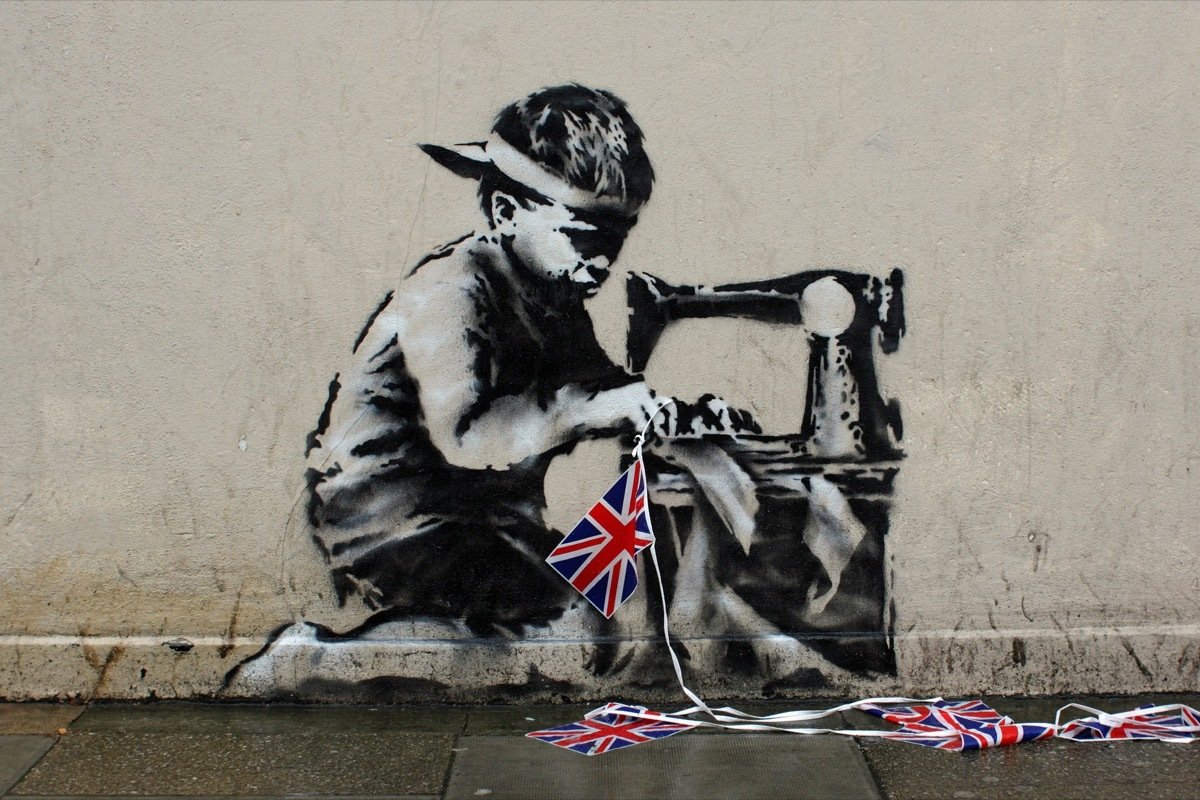 Banksy is an anonymous England-based street artist. His street art combines dark humour with graffiti using a stencilling technique. His works of political and social commentary have been featured on streets, walls, and bridges of cities and art displays throughout the world. Banksy's work grew out of the Bristol underground scene, which involved collaborations between artists and musicians.
Banksy displays his art on publicly visible surfaces such as walls and self-built physical prop pieces. Banksy no longer sells photographs or reproductions of his street graffiti, but his public "installations" are regularly resold, often even by removing the wall they were painted on.
Andy Goldsworthy OBE

Goldsworthy is a British sculptor, photographer and environmentalist who lives and works in Scotland. Goldsworthy crafts his installations out of rocks, ice, leaves, or branches being aware that the landscape will change, then carefully documents his creations using nature through photography. "It's not about art," he has explained. "It's just about life and the need to understand that a lot of things in life do not last."
Romero Britto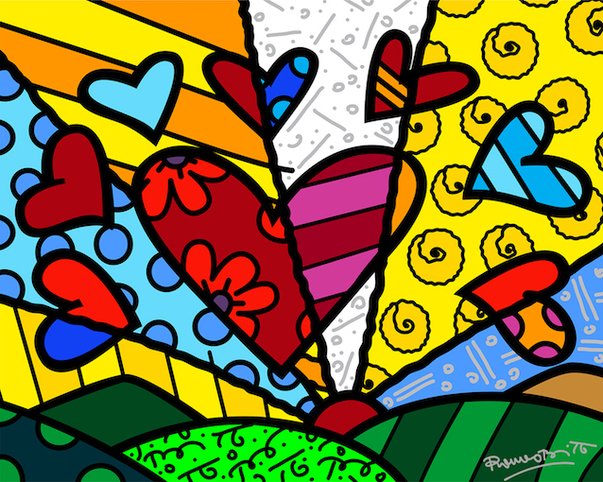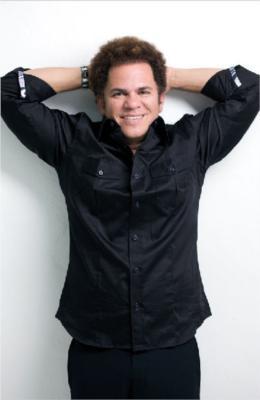 Romero Britto, the founder of the Happy Art Movement has created a visual language of love, hope and happiness all on its own that inspires millions worldwide. Brazilian-born and Miami-made, Britto is an international artist that uses vibrant, iconic imagery and fun patterns to reflect his optimistic view of the world around him. Britto's work has been exhibited in galleries and museums in over 100 countries, including the Salon de la Societe Nationale des Beaux Arts exhibition at the Carrousel du Louvre in 2008 and 2010.
Melissa McKinnon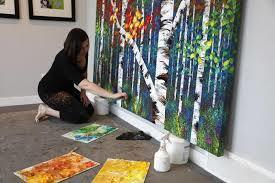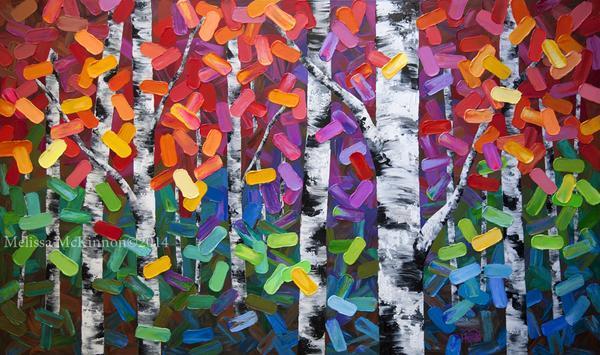 Melissa is a contemporary landscape artist who celebrates colour, texture and movement with layers of rich, vibrant paint. Inspired by her Canadian roots, she paints trees, skies, mountains, oceans and florals.
Chas Jacobs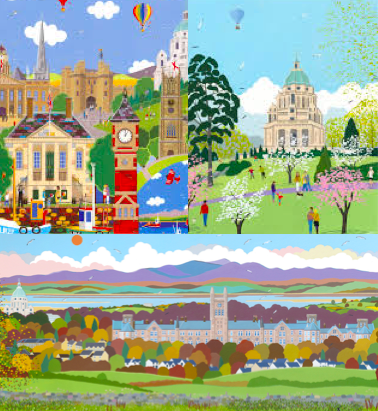 Chas Jacobs is an Artist from Lancaster, North West England. 25 years ago he gave up his job as an electrician and started working from home as a painter. He creates local scenes using a funky style of painting. He used to live on St George's Quay in Lancaster and whilst painting one evening, a hot air balloon came floating down the river. He took a photograph and decided to use it in one of his pictures. Over the years, hot air balloons have become a constant in his work and people are often disappointed if he does not put any in a picture.
Can you spot the hot air balloons?
Victor Nunes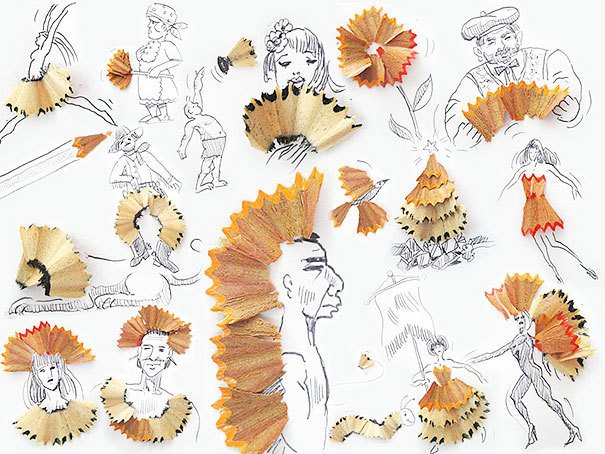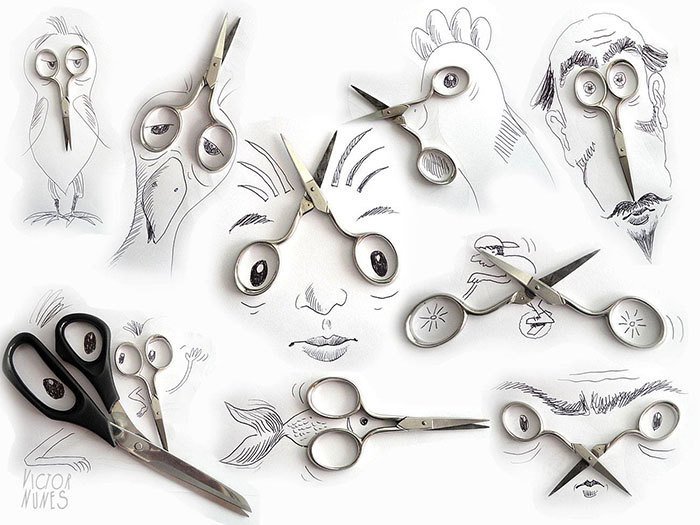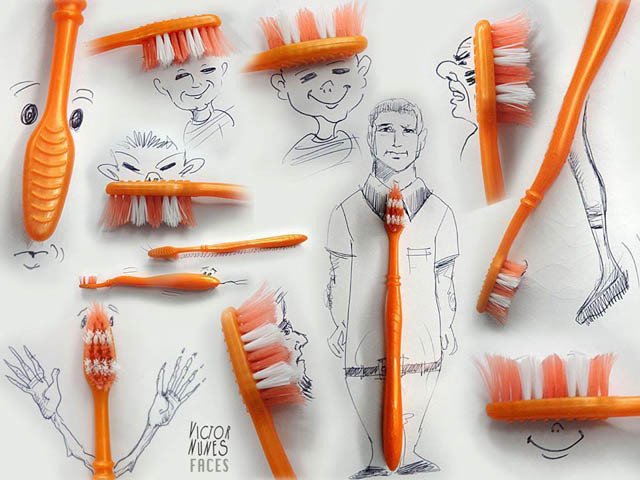 Victor Nunes is a Brazilian illustrator combining drawing with everyday objects. Victor uses everyday objects such as elastic bands, bananas, paper clips, pegs and bottle tops. He looks at the objects on a blank piece of paper and uses it to inspire him.
Can you use an everyday item from your house to create a picture?
We love to see your work. Please share any work via our school email or twitter.
Wassily Kandinsky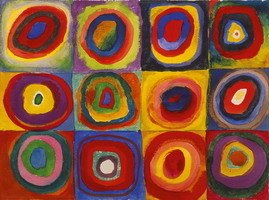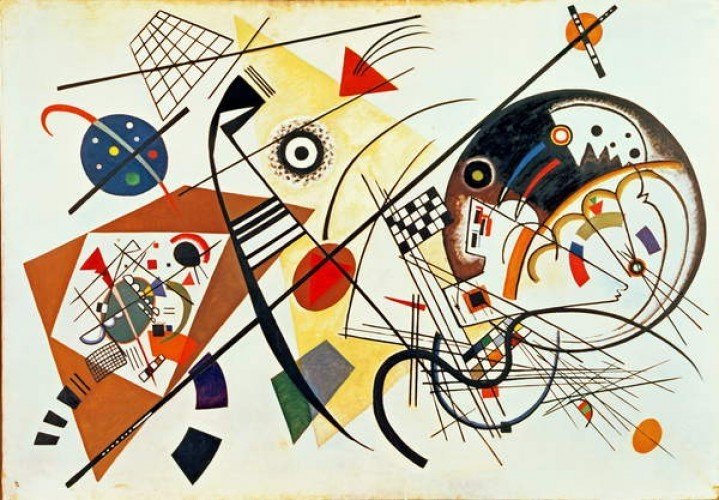 Wassily Kandinsky was a Russian painter and art theorist. He studied many subjects while in school, including law and economics (very hard maths). Later in life, he realised that he had always been amazed by colour as a child. In his paintings he tried to recreate how he felt when he entered houses and churches that had been decorated with such shimmering colours so much so that he felt that he was moving into a painting. Kandinsky once sold a painting for nearly £19 million.
What kind of things inspire your art work?
Stephen Wiltshire MBE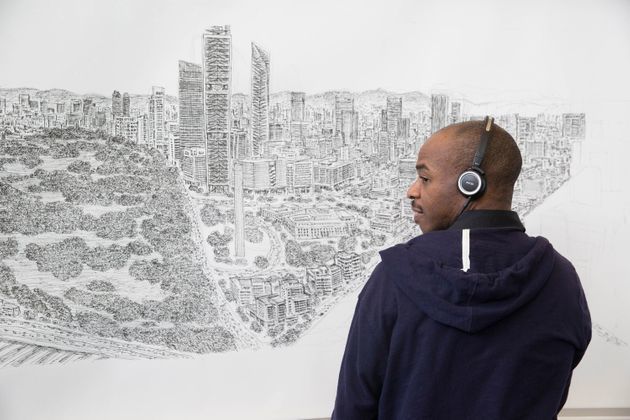 Stephen is a British architectural artist, who is diagnosed with autism. He is known for his ability to draw a landscape using only his memory. For example, he produced a detailed drawing of a very large area of London after only one helicopter ride above the city. He then completed a 6 meter long drawing of 305 square miles of New York City based on a 20 minute helicopter ride. In 2006 he was made a Member of the Order of the British Empire (a very special award from The Queen) for his services to art.
If you would like to find out more about Stephen and see his complete drawing of New York City visit this video:
https://www.youtube.com/watch?v=bsJbApZ5GF0
Do you think you could complete a detailed landscape drawing of your favourite city or area?
Past Projects...
Lumiere Project
We are very excited to announce that we are a part of the 2020 Lumiere Project. We will be working closely with artists and Durham Cathedral over the next year to create out own piece of 'light art'. The piece will be displayed outside Durham Cathedral for 10 days next November. Class 10 are one of 5 classes in the whole of County Durham that are involved. We visited Durham Cathedral as an introduction to the project to have a tour of the historic site and draw parts of it.