Art has the power to transform, to illuminate, to educate, inspire and motivate.
Art and Design
What we say about Art & Design at Coxhoe Primary School...
Art Ambassadors:
"Hello everyone, we are the Art Ambassadors, Phoebe, Tyler, Harry and Aiden. This term we are focussing on shading and sketching and other drawing skills. We also have Art Days, where we explore famous painters and make our own art pieces. We enjoy Art because we get to use colourful paints and pencils and learn new skills. It is an exciting subject!"
Phoebe: "I like sculpting and drawing. Sculpting because I can make things and drawing because I can express what I'm feeling and things I'm interested in through drawing."
Harry: "I like Paleo art because I like drawing pre-historic animals and plants." https://en.wikipedia.org/wiki/Paleoart
Aiden: "I like painting because it can make you focus, entertain you and is very colourful."
Pupil Voice:
" I enjoy sketching before completing my water-colour painting."
"I really enjoyed making gradients with water-colours."
"I love getting messy on art day."
"Making snow globes was fun!"
"I love having a full day of art so that we can paint and make things linked to our class topic."
Curriculum Intent
At Coxhoe Primary school we aim to provide children with a world-class art and design education. We engage, inspire and challenge children, equipping them with the knowledge and skills to participate in, experiment with, invent and create their own works of art, craft and design. Children and young people will be consistently given the opportunity to think creatively and critically. They should investigate and evaluate a wide range of creative outcomes from the past and present to develop a greater understanding of the many disciplines within art and how they shape our history and future.
Enrichment Activities
Platinum Jubilee Celebrations

Pupil Premium Opportunity - Sand Art @ Roker Beach

Appearing in The Times Newspaper (Queen's Portrait)

Visiting Artists

Art Competitions

Christmas Cards of Hope Appeal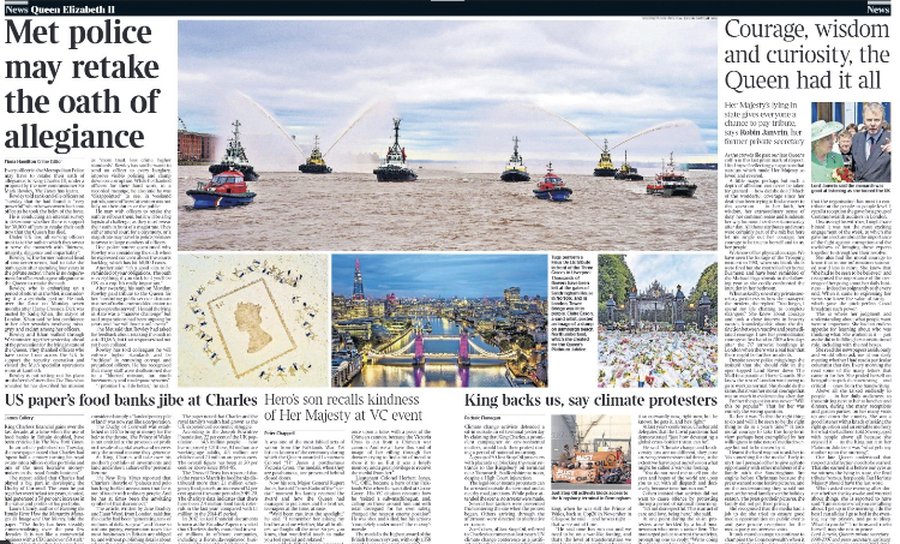 Exciting Times!
In July we collaborated with local sand artist, Claire Eason to create a large-scale portrait of the late Queen Elizabeth II. This week we sadly, mourned the loss of Queen Elizabeth II. As a result, Claire sent in a collection of portraits of the Queen that she had created across the region. The journalist in charge of the article picked out our image, created on Roker beach to feature in a special edition of The Times newspaper.
Claire kindly bought all children involved a copy of the special edition newspaper for them to treasure as a keepsake.
We think you'll agree that this was not only a fantastic achievement but also a touching tribute at this special time.
Art & Design at Coxhoe Primary School 2023-24
Autumn Term
Drawing and Mark Making
Art & Design at Coxhoe Primary School 2022-23
Spring
(Painting and mixed media)
Reception have been looking for signs of Spring. They did observational drawings using mixed media (malleable materials, chalk, crayon, paint and pencil). They explored paint and painting techniques through nature, music and collaborative work. Developing creativity through child-led exploration of mixed-media, making collages and transient art.
Year 1 have explored printing with paint. Beginning with naming the primary colours and moving on to exploring coloured materials to mix secondary colours. They have learnt how to apply paint consistently to printing materials to achieve a print, using a range of colours when printing.
Year 2 have been developing their observational skills to look closely and reflect surface texture through mark-making. They
have been making choices about which materials to use for their collages based on colour, shape and pattern; experimenting with overlapping and layering materials to create interesting effects.
Year 3 and 4 have described the difference between a tint and a shade. They have explored mixing tints and shades by adding black or white paint. They have discussed their real-life experiences of how colours can appear different. children have used tints and shades to paint an object in 3D and tried different arrangements of objects for a composition, explaining their decisions. They were able to produce a clear sketch that reflects the arrangement of their objects to create a final painting that shows an understanding of how colour can be used to show light and dark, and therefore show three dimensions.
Year 5 and 6 began by outlining a portrait drawing with words, varying the size, shape and placement of words to create interest. They have tried a variety of materials and compositions for the backgrounds of their drawings. Children have communicated to their partner what kind of photo portrait they want to show that they are making decisions about the position of a drawing on their background, trying multiple ideas. They were able to create a successful print, using some Art vocabulary to talk about and compare portraits. Children experimented with materials and techniques when adapting their photo portraits, to create a self-portrait to represent something about them.