SEND Information
(See below for latest news)

Inclusion for all is at the heart of everything we do at Coxhoe Primary School. We serve a vibrant and diverse community, rich with different cultures, languages and different pupils with a varying range of academic, social, emotional, physical and sensory needs. We embrace the fact that every child is different. Therefore, we make every effort to meet the needs of any child, regardless of aptitude, ability or special need.
Our SEND Report sets out how we meet the needs of pupils with special educational needs, as set out by our SEND Policy. In this document, you should find answers to any questions that you may have about SEND at Coxhoe Primary School.
Our SEND Team would love to hear from you with any queries or feedback you might have.
Click on the links below to find:
Coxhoe Primary School SEN Policy 2019
Coxhoe Primary School SEND Information Report 2019
Latest News
A Glossary of SEND Acronyms.
During today's SEND Coffee Morning, parents and the SEND team talked about how it can be often confusing and overwhelming to understand the high number of acronyms used when discussing special education needs and disabilities. While the below list does not cover the entire wide ranging number of terms use, we hope this list will help others understand some of the terminology that is often used. Thank you to our wonderful parents who attended today and offered fantastic feedback and support. If there are any additional terms not listed below that you would like to know more about, please contact a member of the SEND Team.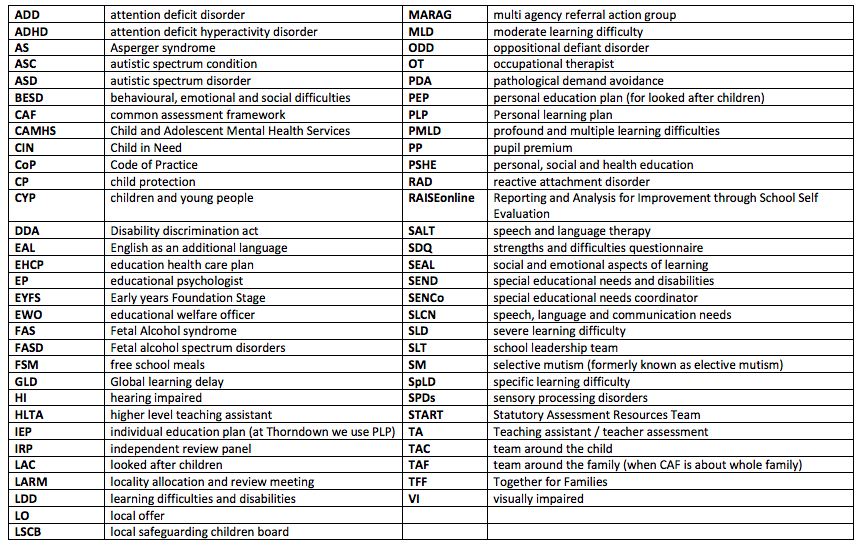 International Day Of Persons With Disabilities 2019
International Day of Persons with Disabilities falls on the 3rd of December each year, with the aim of promoting empowerment, and helping to create real opportunities for people with disabilities. This enhances their own capacities and supports them in setting their own priorities. Empowerment involves investing in people – in jobs, health, nutrition, education, and social protection. When people are empowered they are better prepared to take advantage of opportunities, they become agents of change and can more readily embrace their civic responsibilities.
Question of the Month: What is a SENCO?
SENCO stands for Special Educational Needs Co-ordinator. Examples of what their role includes:
overseeing the day-to-day operation of the school's SEN policy, co-ordinating provision for children with SEN ​

advising on the deployment of the school's delegated budget and other resources to meet pupils' needs effectively ​

liaising with parents of pupils with SEN

liaising with early years providers, other schools, educational psychologists, health and social care professionals, and independent or voluntary bodies ​

being a key point of contact with external agencies, especially the local authority and its support services ​

liaising with potential next providers of education to ensure a pupil and their parents are informed about options and a smooth transition is planned ​
Remember to come in and submit your question in the 'Ask us a question box' situated in school's reception area.
SEND Team (Mrs O'Sullivan and Mr Hopson)
October is ADHD Awareness Month 2019
ADHD (Attention Deficit Hyperactivity Disorder) is a very common disorder which affects children and adults. It has for many years been recognised as a childhood issue that affects focus, self-control and many other important skills. However, it has only recently been recognised as an adult problem too. The cause is an imbalance in the brains anatomy and its wiring.
The ADHD Foundation has lots of useful information on supporting those with ADHD and many helpful links.
Autism Spectrum Disorder (ASD) Awareness
We recently came across this helpful picture which we wanted to share here with you. While it only goes a small way in helping us understand the complex and varied nature of autism, it does give us things to consider as we continue to support and promote those with ASD.

Contact Information:
SENDCO Team: Mrs A O'Sullivan, Mr G Hopson
Contact Number: 0191 3770294
Other useful links:
County Durham Families Information Service - The Local Offer
The Local Offer has information for families of children and young people with Special Educational Needs or Disabilities(SEND), from birth to the age of 25.