PE
What we say about PE at Coxhoe Primary School...
"I like it when it's non-stop and doing lots of activity" - Sam
"It's good being with friends and having fun" - Lucy
"When you run, it's fun and when you play with your friends" - Isaac
"I enjoy getting fresh air" - Lucy
"I have enjoyed gymnastics and learning how to through higher and lower" - Daisy
Year 6 PE Ambassadors
Alex, Grace and Rosie
Swimming Data
Swimming is an important skill and can encourage a healthy and active lifestyle. All Local Authority schools must provide swimming instruction either in key stage 1 or key stage 2. The National Curriculum for PE sets out the expectation that pupils should be taught to:
swim competently, confidently and proficiently over a distance of at least 25 metres

use a range of strokes effectively (for example, front crawl, backstroke and breaststroke)

perform safe self-rescue in different water-based situations.
2021/22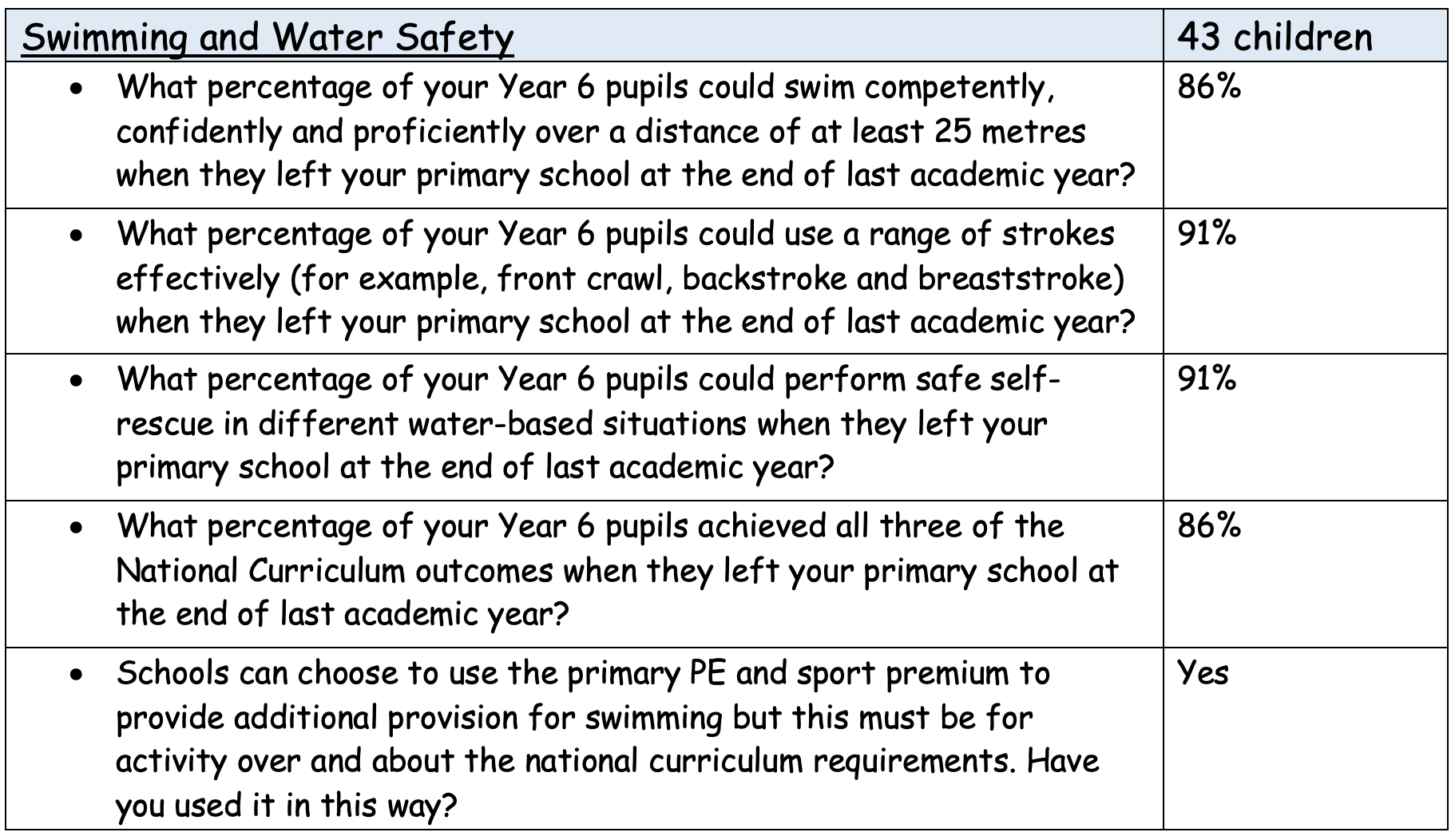 PESSPA
hello
Physical Education
So far this year, Year 5 have enjoyed tag rugby coaching from All Stars Rugby, Year 3/4 have worked with a coach from Go Well on invasion games and Year 5/6 have attended weekly swimming lessons. Reception - Year 2 have a weekly fundamental movement skills lesson, delivered by a coach from Simply Sport. Year 2 have recently started active English lessons, delivered by a coach from Go Well.
Sporting Days:
Quidditch day (delivered by Go Well)

Boogie Bounce

Ready Set Glow (delivered by Go Well)

Skipping day (delivered by Skipping School)
hello
School Sport
Our teams have competed in boccia, tag rugby, cross country, football, netball and basketball. Two children reached the county cross country final - we are very proud of their achievement. Lots of children have enjoyed taking part in festivals such as multi skills and gymnastics.
hello
Physical Activity
Our Leap Leaders are organising and delivering playtime games. All children have access to a range of equipment in our playtime shed.
Skipping Day
The children really enjoyed their skipping workshop. They developed their skipping skills as well as learnt new ones.
Ready Set Glow
Today we enjoyed a glow day, delivered by Go Well! Children from Reception to Year 4 took part in games and activities using neon coloured equipment. We showed great teamwork skills and had lots of fun!
Boogie Bounce
All children enjoyed an end of term treat! We bounced around to music and had lots of fun!
Quidditch
Children from Reception and KS2 enjoyed a quidditch day, delivered by Go Well. They enjoyed games of quidditch and dodgeball quidditch, followed by a photo flying on broomsticks!
Active Maths
Lots of our curriculum is very active - especially maths! Here are some of the active maths activities we have enjoyed so far this year.
County Cross Country Finals
A huge well done to the 12 cross country runners who braved the rain and mud at the Cross Country County Finals. The children were selected to represent Sedgefield SSP after their performances in October. Taking part at Bishop Auckland College this time, each and every one of them showed outstanding character and should be very proud of their achievements.
Dance Festivals
We recently held our our Dance Festival. All the classes had the chance to perform their routine to the rest of the school. They dances were all themed around a topic including Ancient Egypt and Space. There were lots of outstanding individual and team performances. A huge well done to Class 7 who will go on to represent the school at the Sedgefield SSP Dance Festival.
Tag Rugby Festival
Our Tag Rugby team took part in a tournament. We arrived at a boggy Newton Aycliffe Rugby Club in our finest sombreros! This was part of the Sedgefield Schools Partnership's Olympic theme - our school's country obviously being Mexico. Although results didn't go our way, the team improved throughout. We are most proud of the RESPECT award that the team won!
Sedgefield DASH!
15 children took part in the Sedgefield DASH. We had huge success in the track races with all 7 children reaching their finals. Lots of children also came a way with medals. A special mention for Luke who won GOLD in the throwing event. Well done everyone for all their hard work and determination.
Intra-school Festival
Today we held our own multi-sports festival. Teams from Classes 7, 9 and 10 took part in Netball, Football, Mini-Tennis, Boccia and Relays.